Fragments from downed Russian missiles started a fire that killed at least two people and injured eight others in Kyiv, on Saturday, according to Ukrainian officials.
A Telegram post from Serhiy Popko, the head of Kyiv's military administration, revealed that falling debris caused a fire on several floors of a 24-story apartment building in a central district, The Associated Press reported.
More than 20 missiles were detected and taken down by anti-aircraft units, Popko said. Video of the scene appeared to show the upper floors of the building on fire and the parking lot covered with ash and debris.
About 40 cars in the parking lot were damaged in the incident, he said.
RUSSIAN MERCENARY CHIEF SAYS HIS TROOPS HAVE REACHED ROSTOV-ON-DON FOLLOWING CALL FOR ARMED REBELLION
Kharkiv and other Ukrainian cities were also hit by missiles early on Saturday as residents throughout the country heard air alerts, Reuters reported.
At least three Russian missiles targeted Kharkiv, Ukraine's second-biggest city, and one of them started a fire after striking a gas line, according to Mayor Ihor Terekhov. He said emergency services were at the scene, but did not disclose the number of casualties – if any.
The mayor of Dnipro, a city in eastern Ukraine, also reported damage as eight private homes were destroyed in an attack.
RUSSIA OPENS CRIMINAL INVESTIGATION INTO WAGNER GROUP CHIEF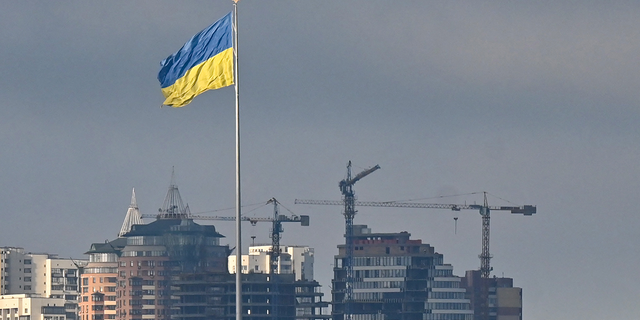 CLICK HERE TO GET THE FOX NEWS APP
Anti-aircraft units were active throughout the country, the Ukranian military said. 
Air alerts were lifted for most of the country after about an hour.
The Associated Press and Reuters contributed to this report.