Russian President Vladimir Putin pledged Saturday to defend the country and its people from an armed rebellion declared by Wagner Group chief Yevgeny Prigozhin, describing the call to action as a treasonous decision that puts the country's survival in peril.
In a televised address Saturday morning, Putin said the mutiny amounted to "a deadly threat to our statehood," vowing there will be "tough actions" in response. The Kremlin's calls for action come after Prigozhin said on Saturday that he had taken control of military facilities in Rostov-on-Don in an attempt to oust the defense minister.
"It is a blow to Russia, to our people," Putin said. "And our actions to defend the Fatherland against such a threat will be harsh."
"All those who deliberately stepped on the path of betrayal, who prepared an armed insurrection, who took the path of blackmail and terrorist methods, will suffer inevitable punishment, will answer both to the law and to our people," Putin continued. "The armed forces and other government agencies have received the necessary orders."
RUSSIAN WARLORD THREATENS KREMLIN MILITARY OFFICIALS FOR ALLEGED ATTACK ON HIS TROOPS: REPORT
While he did not call Prigozhin out by name, he described the rebellion as a "criminal adventure, a grave crime, an armed mutiny" and encouraged those involved to "stop participating in criminal acts."
He said participating would be a "fatal and tragic, unique mistake" and the "only right choice" is to not get involved.
Putin's condemnation of the rebellion comes during a time when he claims Russia is "fighting the toughest battle for its future" with its war on Ukraine.
RUSSIAN MISSILE ATTACK ON KYIV CAUSES FIRE AT APARTMENT BUILDING, KILLING 2, INJURING 8
"The entire military, economic and information machine of the West is waged against us," Putin said.
"This battle, when the fate of our people is being decided, requires the unification of all forces, unity, consolidation and responsibility," the Kremlin said. "Those who plotted and organized an armed rebellion, who raised arms against his comrades-in-arms, betrayed Russia. And they will answer for it."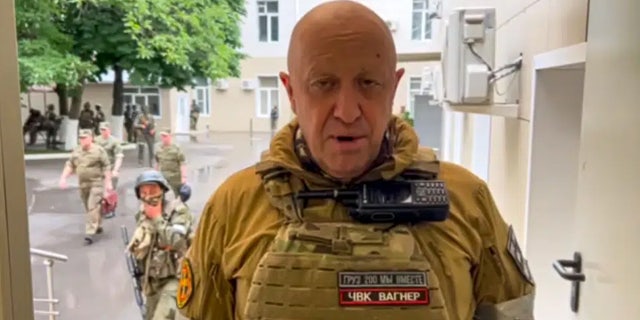 On Friday, Prigozhin accused Russian Defense Minister Sergei Shoigu of launching a deadly attack on his private militia, which is fighting in Ukraine on behalf of Russia.
Russian authorities denied the attack, prompting Prigozhin to promise retaliations during a series of angry audio clips posted on social media site VKontakte (VK).
RUSSIAN MERCENARY CHIEF SAYS HIS TROOPS HAVE REACHED ROSTOV-ON-DON FOLLOWING CALL FOR ARMED REBELLION
"This is not a military coup, but a march of justice," Prigozhin declared.  "The evil embodied by the country's military leadership must be stopped."
"The evil embodied by the country's military leadership must be stopped."

— Yevgeny Prigozhin, Wagner Group Chief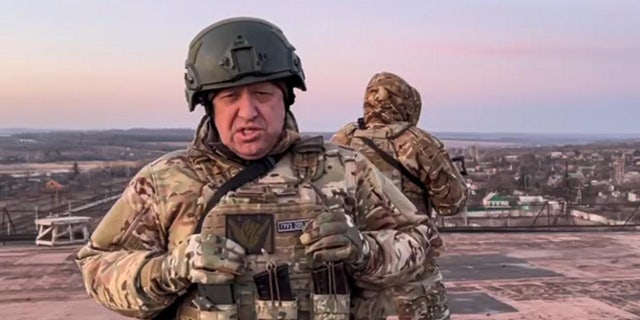 Prigozhin stepped in new territory by suggesting that Putin's rationale for invading Ukraine was based on lies concocted by the army's top brass, including Shoigu.
CLICK HERE TO GET THE FOX NEWS APP 
"The war was needed … so that Shoigu could become a marshal … so that he could get a second 'Hero' [of Russia] medal," Prigozhin said in a video clip. "The war wasn't needed to demilitarize or denazify Ukraine."
Fox News' Peter Aitken, The Associated Press and Reuters contributed to this report.