Greece's conservative New Democracy party won a landslide victory in Sunday elections, handing its leader Kyriakos Mitsotakis a second term as prime minister. 
New Democracy's win in Greece's second election in five weeks inflicted a stinging defeat on their main rivals, the left-wing Syriza party.
Near complete results show New Democracy has won just over 40.5% of the vote while the Syriza, was struggling to reach 18% – 2 percentage points lower than the last elections in May.
"With today's electoral result, Greece opens a new, historic chapter in its course," Mitsotakis said in a televised statement. Voters, he said, "gave us a strong mandate to move faster on the course of the big changes our country needs. In a loud and mature way they have permanently closed a traumatic cycle of lies and toxicity that held the country back and divided society."
NIGERIAN PRESIDENT REPLACES ALL SECURITY CHIEFS IN MAJOR SHAKEUP
His second term as prime minister "can transform Greece at a dynamic pace of development which will increase salaries and reduce inequality, with better and free public health care, with a more effective and digital state and a strong country," he added.
Three smaller parties, meanwhile, were set to gain national representation. They included the Spartans and the ultra-religious Niki party, which has a base of support among the Greek Orthodox Church.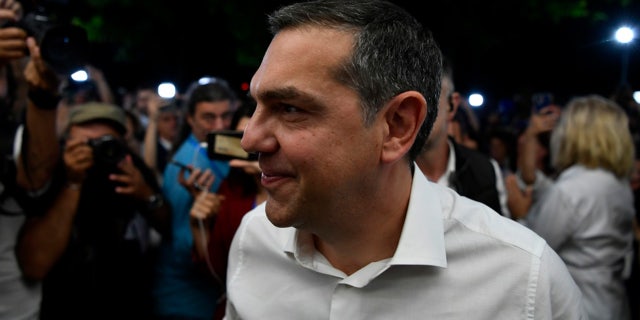 Mitsotakis' party was projected to win 158 of Parliament's 300 seats, thanks to a change in the electoral law that grants the winning party bonus seats. The previous election in May, conducted under a proportional representation system, left him five seats short of a majority despite winning nearly 41% of the vote, and he had decided to seek a stronger mandate in a second election rather than to seek to form a coalition government with a smaller party.
Voter turnout, however, was low on Sunday, at just under 53% of eligible voters, compared to just over 61% in the May vote. 
SERBIA BUCKS US, EU; OPENS PROCEEDINGS AGAINST ARRESTED KOSOVO POLICE OFFICERS
Mitsotakis, 55, campaigned on a platform of securing economic growth and political stability as Greece gradually recovers from a brutal nearly decade-long financial crisis.
His main rival, 48-year-old Alexis Tsipras, served as prime minister from 2015 to 2019 — some of the most turbulent years of Greece's financial crisis. His performance Sunday leaves him fighting for his political survival. After his poor showing in May elections, he had struggled to rally his voter base, a task complicated by splinter parties formed by some of his former associates.
Mitsotakis, a Harvard graduate, comes from one of Greece's most prominent political families. His late father, Constantine Mitsotakis, served as prime minister in the 1990s, his sister served as foreign minister and his nephew is the current mayor of Athens. The younger Mitsotakis has vowed to rebrand Greece as a pro-business and fiscally responsible eurozone member.
CLICK HERE TO GET THE FOX NEWS APP
Sunday's vote was held under an electoral system that grants a bonus of between 25 and 50 seats to the winning party, depending on its performance, which makes it easier for a party to win more than the required 151 seats in the 300-member parliament to form a government.
The Associated Press contributed to this report.