A Houston, Texas pastor who helped thwart a man allegedly attacking an elderly couple in their home credited his faith for jumping into action to protect his neighbors.
"If it wasn't for him, we'd probably be dead," Sharon Koehn told KTRK of local pastor Heath Haynes.
Haynes told Fox News Digital he was sitting with his wife in their home on June 15 when they heard Sharon yelling for help outside.
"I started running over [to the neighbor's home], thinking I'm responding to the medical emergency," Haynes recounted. "And then she starts yelling as she's coming down the sidewalk that [a suspect] is attacking her husband. So kind of switched gears, to 'OK, this is not medical emergency. This is an attack.'"
GOOD SAMARITAN FOLLOWS SUSPECT IN WOMAN'S BRUTAL ATTACK UNTIL COPS ARRIVE
Haynes said the front door to the neighbors' home slammed shut on his way over, but he was able to peek in the window. He saw his 85-year-old neighbor Earl Koehn, who has dementia, on the floor with a coat rack over his chest and a man rifling through his pockets, he said.
POLICE SAY 'GOOD SAMARITAN' PREVENTED FURTHER LOSS OF LIFE IN INDIANA MALL SHOOTING: 'TACTICALLY SOUND'
"I'm banging on the door yelling at [the suspect], and he's acting like he lives there, saying 'I'll be right there,'" Haynes said. "I'm yelling 'I can see you.' And at that point, he stops and goes to the back of the house."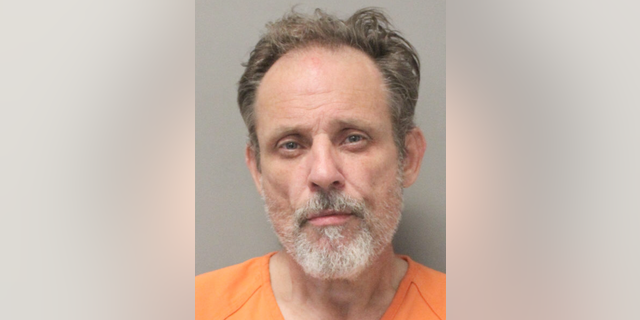 That's when Haynes took out his phone and began recording the scene, explaining he thought the suspect, identified as 54-year-old Shane Jennings, may have a weapon and the camera could deter him from becoming more violent.
"Hey, what do you think you're doing, man?" Haynes is heard asking Jennings in the video. "You're beating that man up."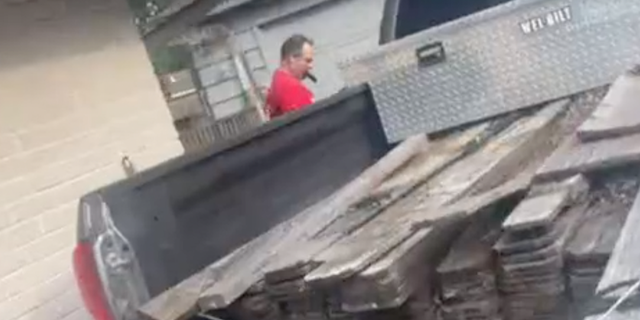 Haynes told Jennings to put down a set of car keys he had to the Koehn's pickup truck, as well as other items in his hand, the video shows. The suspect is seen attempting to open the truck door before running from Haynes.
The pastor managed to subdue Jennings for a few moments, as the suspect claimed he did not attack the couple and that he "can't breathe" as Haynes held him by the collar of his T-shirt.
OREGON GOOD SAMARITAN SAVES GRANDMOTHER FROM HOUSE FIRE: 'ANGEL CAME OUT OF NOWHERE'
"At this point… I know my wife called the police," Haynes said. "I'm just trying to contain without escalating it any further and I'm just kind of keeping him in the back area. We're just kinda cat and mousing around the truck."
Meanwhile, Haynes' wife Amber had kicked off her flip-flops and was standing at the ready to help subdue Jennings if he tried to make a run for it, Haynes recounted.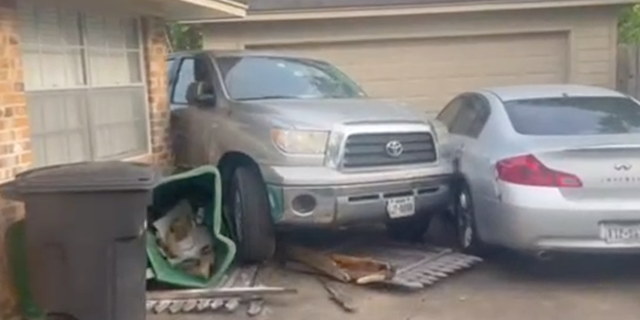 The Houston pastor said he did not realize that Jennings still had a pair of keys in his hands, and it didn't occur to him that the suspect would try to jump into the vehicle as they were in an enclosed area.
Jennings did make a move for the car. Haynes recorded the suspect drive the truck through a fence, sideswipe the house, repeatedly hit another parked vehicle in the driveway, run over some trash cans, and take off down the road. 
Police were able to capture Jennings later that day following a short police chase, where Jennings also reportedly hit a police vehicle. He was hit with six felony charges, including aggravated assault of an elderly person and assault of a peace officer, KTRK reported.
IN THE FACE OF CRIME AND DANGER, AMERICANS STEPPED UP TO HELP COMPLETE STRANGERS IN 2022: 'PEOPLE ARE AMAZING'
The Koehns did not suffer serious injuries during the attack and are processing the incident, according to Haynes.
Haynes added that the Koehns were likely targeted by Jennings, citing how Earl came home a few weeks prior and said he had been mugged, but his family was unsure if it really happened due to his dementia. Haynes said when Jennings first appeared on the Koehns' doorstep he asked for a glass water, then said he needed to use the bathroom, then again allegedly changed his story and said he owed Earl money, according to Haynes.
"So he knew Earl's name, and then barged his way in, and then flipped the script and said 'Earl owes me money,'" Haynes said.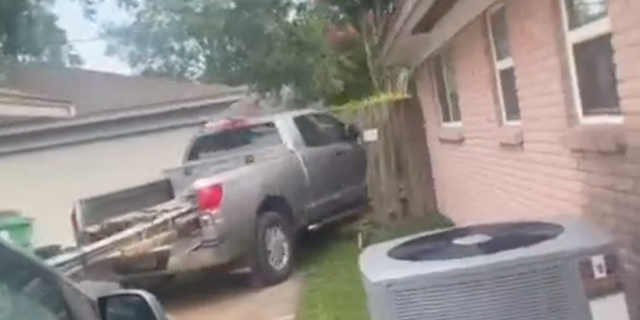 As for the pastor, he's crediting God and his faith for how stepping in to help protect the Koehns.
"As a Christ follower, or someone who's experienced the redeeming love of Jesus, is that He showed me what love looks like," Haynes said. "It says: 'There is no greater love than this – than the one who lays down their life for his friend.'
"Jesus did that for me," he added. "He gave His life for me. And so I've been shown that kind of selfless, sacrificial love."
GOOD SAMARITANS RESCUE WOMAN FROM ATTACK IN MALL BATHROOM STALL: POLICE
He noted he has a "self-preservation instinct just like everyone else," but in that moment, he was "acting on something that's deeper inside."
Haynes also said divine intervention led him to be there at the right moment, explaining he and his wife never sit in the room where they were able to hear Sharon calling for help, or how he was able to keep Jennings from flying off the handle and causing more harm to the Koehns or other people during their confrontation in the backyard. 
CLICK HERE TO GET THE FOX NEWS APP
"I hope he finds forgiveness and grace and Jesus in prison, but he's not going to get there without facing some bottom," he said. "He's going to have to hit the bottom. I hope somehow this system helps him get there. He needs to face some consequences."