The French government issued a decree on Wednesday shutting down a major climate activist group whose demonstrations have frequently resorted to violence and saw fierce clashes with police earlier this year. 
Uprisings of the Earth (SLT) condemned the shutdown as a violation of human rights and an infringement on the French public's freedom of speech according to reports. 
"It's an infringement on freedom of expression, it targets speech and not actions," SLT lawyer Raphael Kempf told Reuters before vowing to contest the decision in the French courts.
FRENCH PROTESTS REIGNITE IN EFFORT TO GET PRESIDENT EMMANUEL MACRON TO SCRAP PENSION REFORM PLANS
Head of the French Human Rights League, Patrick Baudouin, echoed this sentiment and said it was "part of a wider trend."
"For the past few months there have been attacks on several freedoms (freedom of protest, expression and association), that primarily concern the ecologist movement," he added. 
Swedish climate activist Greta Thunberg also threw her support behind the group and according to local news outlet France24 stood alongside supporters of the group outside the Council of State in Paris Wednesday and said, "This is about the right to protest, and this is about defending life."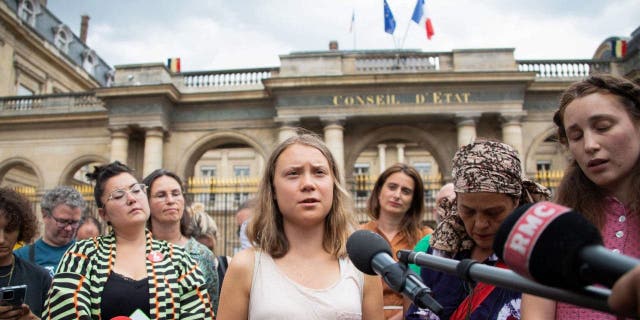 Thunberg said she hopes more people will stand up for the right to protest and demand changes to aid the environment. 
FRENCH POLICE CLASH WITH VIOLENT PROTESTERS DURING MASS MAY DAY DEMONSTRATIONS
However, French officials stood by their decision with France's Interior Minister Gerald Darmanin calling the aggressive acts carried out by the group's supports the equivalent to "eco-terrorism" after some activists showed "extreme violence against police forces."
"Under the claim of defending the preservation of the environment… [SLT] encourages sabotage and property damage, including with violence," he said Wednesday.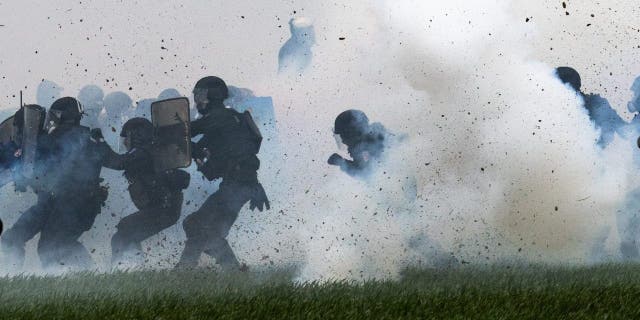 SLT grabbed international headlines earlier this year after massive protests broke out in western France over a controversial irrigation project in Sainte-Soline.
Some 5,000 protesters clashed with 3,000 police officers in an event that left two of them in a coma with some 30 police officers injured, reported The Guardian. 
CLICK HERE TO GET THE FOX NEWS APP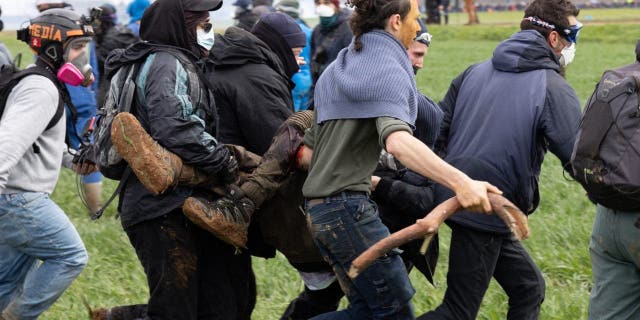 France's Human Rights League reportedly claimed that once demonstrators arrived at a reservoir where the protests were held police officers began firing upon them with rubber bullets, tear gas grenades, stun grenades and explosive sting-ball grenades.
The numerous clashes France has seen this year between protesters and police prompted U.N. officials in May to advise the French government to review its policing practices and to take measures to avoid the use of excessive force. 
Reuters contributed to this report.