Gum disease (periodontitis) affects more than 47% of Americans — or nearly 65 million people — including former Major League Baseball player Alex Rodriguez, who recently announced he has the condition.
As artificial intelligence continues to expand into dental and medical uses, dentists are relying on the technology to quickly and accurately detect and prevent periodontitis, decay, bone loss and other gum health issues.
Now, VideaHealth, a medical technology company in Boston, has created a dental AI platform that is available to 90% of dental practices in the U.S., the company said. 
BE WELL: FLOSS YOUR TEETH DAILY FOR BETTER HEART HEALTH
The FDA-approved system analyzes patients' X-ray images using an algorithm trained on hundreds of millions of data points — more than 50 times the number of X-rays most dentists see in their lifetime, according to the company — to provide treatment recommendations for patients.
"VideaAI lets dentists examine X-rays for cavities and radiographic bone level findings, comparing them against our AI algorithms," Boston-based Florian Hillen, VideaHealth's founder and CEO and an AI research fellow at Harvard Business School, told Fox News Digital. 
With traditional dental screenings, X-ray analysis is used for diagnosis and treatment planning — but 50% of dental decay is missed and 30% results in wrongful diagnosis, he also said.
His company's system "identifies 43% more cavities and reduces the error rate of misdiagnosis by 50%, and also reduces false positives by 15%," he said. 
"Our analysis enables more accurate diagnoses and better preventative care."
AI a 'great equalizer' for dentists, patients
In addition to enabling faster, more accurate findings, VideaAI also gives dentists the data and confidence to engage better with their patients, Hillen said.
THESE ARE THE WORST DENTAL MISTAKES YOU CAN MAKE FOR YOUR TEETH
"It also helps dentists achieve more streamlined workflows in their offices, resulting in reduced human error and mistakes," he added.
For patients, the AI tool helps to improve their dental health by catching cavities, abscesses, lesions and oral diseases before these issues evolve into much larger problems. 
"With the right dental care, the risk of medical complications from diabetes, heart disease and other illnesses can be significantly decreased," Hillen said.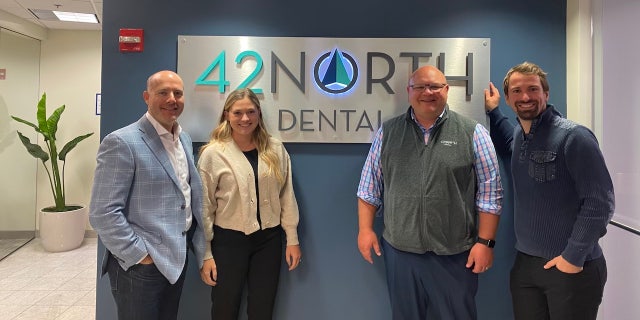 AI also helps increase patients' trust by showing them "the complete picture," Hillen said.
"Today, a lot of dental relationships are asymmetric," he said. "Patients don't know if they need the X-rays or the treatment plan — and sometimes they want a treatment they don't need."
Historically, patients don't always accept their dentists' recommendations, Hillen pointed out — "the majority of the time, they don't," he said. 
As a result, the dental issues continue to worsen until there is a significant issue.
Fifty percent of dental decay is missed and 30% results in wrongful diagnosis.
"You wouldn't walk around with an infection in your finger — you'd treat it and deal with the issue immediately," he said. 
CHATGPT AND HEALTH CARE: COULD THE AI CHATBOT CHANGE THE PATIENT EXPERIENCE?
"So why do so many adults walk around with mouth infections? And do they even know they're increasing their risk of diabetes, high blood pressure, cardiac issues and dementia?"
Hillen said he sees AI as "the great equalizer" in that it can provide an unbiased, data-driven analysis that the dentist and patient can review and discuss together.
"With AI, findings are easier to explain to patients, who trust their dentists more — which means patients are more likely to move forward with necessary treatments rather than delay care," he said.
VideaAI in action
A dental service organization in Boston called 42 North Dental was one of the earliest adopters of the VideaAI tool.
"We're big believers in technology and aiding our doctors to provide the best care possible," the company's chief clinical officer, Boston-based Michael A. Scialabba, DDS, told Fox News Digital. 
"AI is essential for practitioners because it is unbiased, and it provides us with the opportunity to identify lesions that we might miss without it."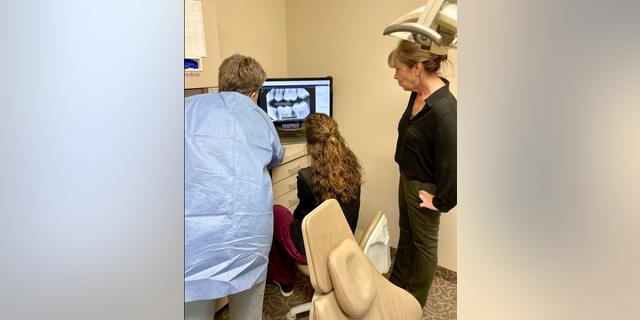 When 42 North Dental started reviewing dental AI options, the dentists first examined 100+ images with the naked eye.
When they viewed those same images again with VideaAI, they found nearly 20% more cavities, Scialabba said.
The practice has also seen its treatment acceptance rates increase by 20%.
"The common misconception is that dentists overdiagnose, but this is not accurate," Scialabba said. 
The practice has also seen its treatment acceptance rates increase by 20%.
Rather, he said, dentists "are conservative, and underdiagnosis is the bigger issue. VideaAI can help us see issues before they are visible to the naked eye, so we can offer recommendations and stave off bigger issues."
AI TECH AIMS TO HELP PATIENTS CATCH DISEASE EARLY, EVEN 'REVERSE THEIR BIOLOGICAL AGE'
Implementing AI has helped 42 North Dental prevent mistakes, reduce missed diagnoses and improve oral health by detecting cavities and early bone loss, which is an indication of gum disease, Scialabba said. 
"This will help drive better overall health and reduce instances of chronic diseases," he said. "Increasingly, AI in dentistry can help detect and prevent issues ranging from diabetes to cardiovascular disease and early-onset dementia."
He added, "This isn't aspirational — this is the truth."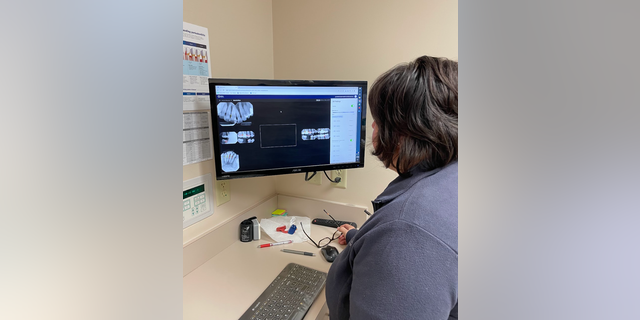 The practice's patients have also enjoyed having a clearer, more visual window into their own dental health, Scialabba said.
"Patients now have an unbiased and data-backed understanding of their X-rays and diagnosis," he said. "AI takes out the emotion and bias for both the dentist and the patient, and provides a straightforward way to talk about treatment plans using just the facts."
AI IN DENTISTRY: RESEARCHERS FIND THAT ARTIFICIAL INTELLIGENCE CAN CREATE BETTER DENTAL CROWNS
He added, "This approach puts more control into the hands of patients, so they can make the smartest and most meaningful decision for their oral care."
More than a year after implementing VideaAI, 42 North Dental is now in the process of rolling out the tech to all of its locations.
Not a replacement for 'human experience'
While dental AI has been shown to improve outcomes for patients and efficiency for practices, it's not meant to replace trained professionals, experts say.
"Dentists and hygienists will always remain a critical part of the equation in disease diagnostics, as they have the context of years of experience, patient histories and in-person examinations," Scialabba told Fox News Digital.
"AI in dentistry can help detect and prevent issues ranging from diabetes to cardiovascular disease and early-onset dementia."
"At the end of the day, it's a combination of AI and using human experience — a tool for the dentists to use," he added.
CLICK HERE TO SIGN UP FOR OUR HEALTH NEWSLETTER
Beyond just analyzing X-rays, Scialabba said that clinicians serve as their patients' collaborators, advisers, educators and partners — and AI helps them deliver the best care possible.
CLICK HERE TO GET THE FOX NEWS APP
"The clinical experience and insights dental professionals bring to the table cannot be underestimated, but the AI offers objective, consistent observations to consider when making their decisions and recommendations," he added.