After a report indicated the Russian-backed Wagner Group deployed more than 400 mercenaries to Kyiv with the mission of assassinating Ukrainian President Volodymyr Zelenskyy, the private military company is receiving renewed attention from its past atrocities carried out at the behest of the Kremlin. 
Russian businessman and Putin's close ally, Yevgeniy Prigozhin, has claimed credit for founding and running the Wagner group since its inception in 2014. The Wagner Group articipated in the Russian annexation of Crimea from Ukraine in 2014 and has been considered a proxy group of the Russian state abroad, according to the Center for Strategic and International Studies (CSIS).
The group rose to prominence during the Russian invasion of Ukraine, deploying around 50,000 personnel to the front over the fifteen months of conflict, including 10,000 contractors and 40,000 convicts. Russian President Vladimir Putin increasingly relied on Wagner for results in Ukraine as the Russian military's own efforts produced minimal results and the conflict dragged on far beyond the initial projected timeline. 
The Times of London reported early in the conflict that Wagner headed up an alleged mission to decapitate Zelenskyy and his government, and Kyiv Mayor Vitali Klitschko issued a 36-hour nightly curfew over the weekend, warning that any residents who go outside could be mistaken for enemy sabotage and reconnaissance groups. 
WAGNER GROUP FORCES SAID TO BE ADVANCING TOWARDS MOSCOW AFTER CAPTURING RUSSIAN MILITARY FACILITIES: REPORTS
With the increasing reliance on his private forces, Prigozhin appeared to enjoy greater sway at home, but he carelessly and freely wielded his clout and alienated the Russian military command with whom he needed to collaborate. One of Prigozhin's close associates compared the mercenary chief to "Icarus," who flew too close to the sun and got burned. 
Prigozhin appeared to try and take power from Russian Defense Minister Sergei Shoigu, according to a close associate and two Western officials. The associate claimed that Prigozhin referred to Shoigu as "our biggest enemy, not the Ukrainians."
But with the appointment of Valery Gerasimov as the new chief of the general staff, the top official for Russia's military, Prigozhin has suddenly found himself on the outside. Gerasimov's tactics may not have found results, but he has used his position to greatly diminish Prigozhin's influence and cutting down on supplies to the mercenary force. 
PUTIN VOWS TO DEFEND RUSSIA AGAINST ARMED REBELLION LED BY MERCENARY CHIEF: 'THEY WILL ANSWER FOR IT'
Prigozhin began making veiled threats to Russia's military command as his men ran out of munitions needed to maintain their campaign, telling the governor of Russian city Svedlovsk, "During the 1941-45 war … Stalin simply shot people like you" and "I'm sure that the time is not far off when people will reach boiling point and raise you and people like you up on pitchforks."   
Those tensions came to a head on June 23 when Prigozhin claimed that Russian forces had attacked his group and he started to march towards Moscow.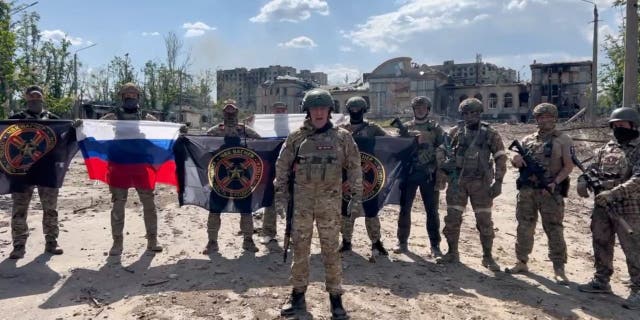 In a move supported by U.S. Secretary of State Antony Blinken, the European Union in December moved to sanction the Russia-backed Wagner Group and its associates for serious human rights abuses, including torture and extrajudicial, summary or arbitrary executions and killings, and destabilizing activities in countries including Libya, Syria, the Central African Republic and Ukraine's Donbas region.
The U.S. in January 2023 then designated the Wagner Group as "a significant transnational criminal organization" as it announced additional sanctions against the group and its support network across multiple continents. 
RUSSIAN MISSILE ATTACK ON KYIV CAUSES FIRE AT APARTMENT BUILDING, KILLING 2, INJURING 8
"We've seen the Wagner Group active in the Middle East, certainly in Africa and even in Venezuela. They have caused no end of problems for U.S. policymakers, and there have been efforts to sanction some of their leaders," Dr. James Anderson, former Acting Under Secretary of Defense for Policy, told Fox News Digital last year.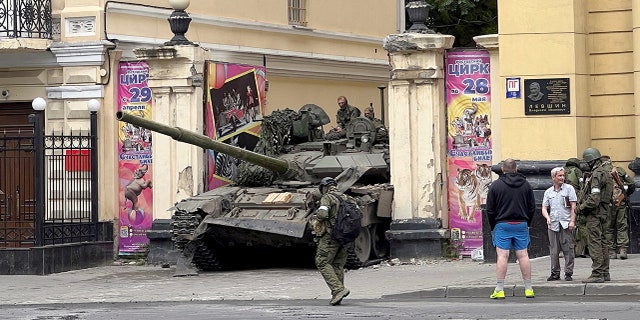 "I would also note that they have been active in the breakaway republics in Ukraine for a number of years," Anderson told Fox News Digital.
Wagner has increasingly leaned on recruitment from prisons, which often include trained military veterans. U.S. intelligence indicates that the Russian Defense Ministry has "reservations" about Wagner's recruiting methods, but the group continued to find fresh troops in prisons until new military command ended the program in an effort to diminish Prigozhin's influence. 
CLICK HERE TO GET THE FOX NEWS APP
Prigozhin has tried to use the press to force the hand of Russian military leadership, first providing an interview with a pro-war Russian blogger in which he warned that his troops were down to their last ammunition supplies, saying "everything else will crumble" if he must pull his forces. 
"You scumbags are sitting in expensive clubs; your children are enjoying life and making YouTube videos," he said of Russia's elite. "You think you are the masters of this life and that you have the right to control their lives. You think that if you have ammunition depots then you have the right to them."