After petrol and diesel, rising prices of tomatoes are pinching customers hard. While usually the fruit is priced at around Rs. 20-40 per kilo, recently the cost has been much higher at around Rs.100 or more. It is said that the rains and floods in parts of Karnataka, Andhra Pradesh, and Tamil Nadu are pushing up the prices of tomatoes. Let's admit it – tomato is indeed a staple in the Indian kitchen, and its absence is being sorely felt in our everyday lives. The unique 'umami' taste that tomato provides is truly irreplaceable. But worry not – we have found some Indian gravy recipes which don't require tomatoes at all. From yogurt-based dishes to those which require Besan, you must explore these yummy Indian dishes till tomato prices come down again.
Here Are 7 Indian Gravy Recipes That Don't Require Tomatoes In Their Cooking:
1. Dahi Aloo
Curd is one of the most popular substitutes for tomatoes in Indian cooking. Its slightly sour taste compliments this Dahi Aloo perfectly. Click here for the Dahi Aloo recipe. You can also make a number of other gravies with curd, click here to know more.
2. Punjabi Kadhi
Besan-based Kadhi is also another gravy that does not require tomatoes at all. Punjabi Kadhi uses fried Besan Pakodi as the star of the dish. Click here for the recipe. The humble Kadhi has travelled across the expanse of India, and there are many other regional Kadhi recipes you can try. Learn more at the link here.
(Also Read: Onion Prices Soar And Twitterati Get Creative – See Hilarious Memes Here)
3. Mutton Yakhni
Kashmiri cuisine is also well-known for its subtle flavours and delicious preparations which avoid tomatoes entirely. This scrumptious Mutton Yakhni involves a yogurt-based gravy that is simmered with spices to make a delightful recipe. Find the full recipe here.
4. Gatte Ki Sabzi
Rajasthani food makes use of simple ingredients which are transformed by interesting cooking techniques. Gatte Ki Sabzi, for instance, is completely tomato-free and can be made at home for a satiating feast. Click here for the full recipe.
5. Nawabi Paneer 
While usual Paneer recipes require tomatoes in their making, the Nawabi Paneer is a class apart. A rich and indulgent gravy is prepared in typical Nawabi-style with curd, milk, cashews and an array of spices. Find the full Nawabi Paneer recipe here.
(Also Read: How To Make Authentic Besan Bhindi (A Rajasthani Specialty) At Home)
6. Kariwari Chicken Curry
Kariwari Chicken Curry is a delightful gravy that incorporates coastal flavours with a base of coconut. Whole spices, lots of onion, garlic, and fresh coconut make this recipe a must-try. Click here for the full recipe.
7. Sambhar
Numerous Dal preparations can be made without using tomatoes at all, and Sambhar is one of our top picks among them. The South Indian delight pairs well with hot rice, and you can also use it for dipping Idlis and crispy dosas. Find the full recipe here.
(Also Read: 5 Delicious Kerala-Style Curries For An Authentic South Indian Meal)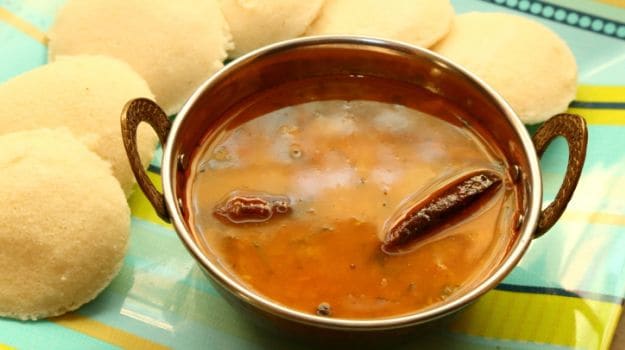 Enjoy these dynamic and delicious flavours of India that can be made without tomatoes! Which one will you try first? Tell us in the comments below.