North Texas postal worker Eugene Gates Jr., 66, died on June 20 after he collapsed while delivering mail amid a dangerously high heat index, according to multiple reports — and now USPS shifts in Texas will be starting earlier.
Postal workers said a flyer and alerts informed them their shifts would be moved to start at 7:30 in the morning, Fox 4 reported on Tuesday afternoon. 
The heat index the day the worker died reached 115 degrees Fahrenheit, the highest recorded temperature in the Dallas-Fort Worth area since 1980, according to a local news outlet.
SWELTERING TEXAS HEAT WAVE SCORCHES SOUTHERN CITIES, BRINGING TRIPLE-DIGIT TEMPERATURES
A homeowner rushed outside to perform CPR after Gates lost consciousness, but he was later pronounced dead at Texas Health Presbyterian Hospital. The cause of death has yet to be determined by the medical examiner. 
Gates served in the United States Army. He later traded his uniform for another life of service for the United States Postal Service (USPS), as noted in a statement.
He was a member of Lone Star Branch 132 in the National Association of Letter Carriers. During his 36 years of delivering mail, Gates was "beloved by his colleagues and customers," the statement added.
"America's letter carriers often work in dangerous environments," National Association of Letter Carriers President Brian L. Renfroe, based in Washington, D.C., said in a recent statement.
"The most important and immediate step that can be taken to protect anyone from the hazard of excessive heat is to learn as much as possible about this potentially life-threatening hazard — particularly the warning signs of heat illness," he continued.
HEAT WAVE RESPONSIBLE FOR MULTIPLE DEATHS ACROSS US
Some organizations, such as the World Health Organization (WHO), claim that climate change is causing steadily rising temperatures and increasing exposure to heat.
"Heat stroke can occur whenever one is exposed to excessive heat without protection, cooling measures or fluid and electrolyte repletion," Carl Allamby, M.D., an emergency medicine physician at Cleveland Clinic in Cleveland, Ohio, told Fox News Digital. 
To prevent heat exhaustion and heat stroke, it's vital to understand the warning signs.
What's the heat index?
The heat index measures how hot your body feels when considering both the humidity and the outside temperature, according to the National Weather Service.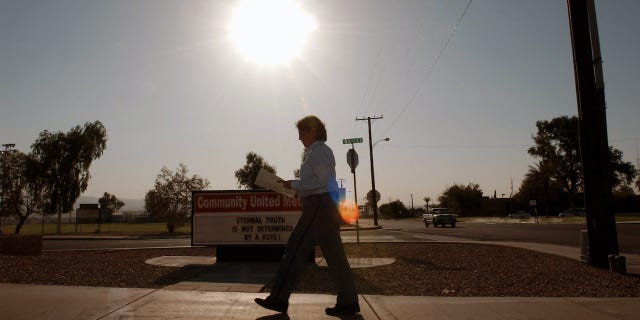 When it gets too hot outside, the body starts to sweat, which has a cooling effect when perspiration starts to evaporate.
As the relative humidity increases, however, it takes longer for the sweat to evaporate, causing people to feel warmer.
Understanding heat exhaustion 
Heat exhaustion occurs when the body loses too much salt and water, often through excessive sweating, according to the Centers for Disease Control and Prevention (CDC).
The loss of water through sweating and evaporation can cause dehydration and the loss of electrolytes, Allamby said. 
BE WELL: STAY HYDRATED IN THE SUMMER HEAT WITH THESE SMART TIPS
"Symptoms manifest as an elevated heart rate (tachycardia), sweating, nausea/vomiting, headache, weakness and dizziness," he noted.
Some other warning signs include feeling thirsty, sweating profusely or having a decreased urine output, the CDC said.
Symptoms of heat exhaustion include elevated heart rate, sweating, nausea, vomiting, headache, weakness and dizziness.
"These symptoms are usually reversible by removing the person from the heated environment, providing liquids containing electrolytes and using evaporative cooling methods, such as spraying them with water and putting them in front of a fan," the doctor added.
When heat exhaustion symptoms are ignored, they can progress to heat stroke, Allamby warned.
If symptoms worsen, persist for more than one hour or lead to vomiting, it's important to seek immediate medical attention, the CDC warns.
Signs of heat stroke
Heat stroke is the most serious heat-related illness. It occurs when the body's sweating mechanism breaks down and the person can't cool down, according to the CDC.
"This is where the person's temperature elevates above 40 degrees Celsius or 104 degrees Fahrenheit, [leading to] neurological changes such as confusion, difficulty walking, seizures, slurred speech, delirium and coma," Allamby said. "They may also stop sweating at this point."
Heat stroke can be fatal, especially if left untreated.
This condition occurs more often in children and the elderly, who may not have a structured environment to protect themselves from the heat, the doctor added.
Heat stroke "is usually fatal if not treated — but even with treatment, a significant amount of people will die as a result," Allamby warned.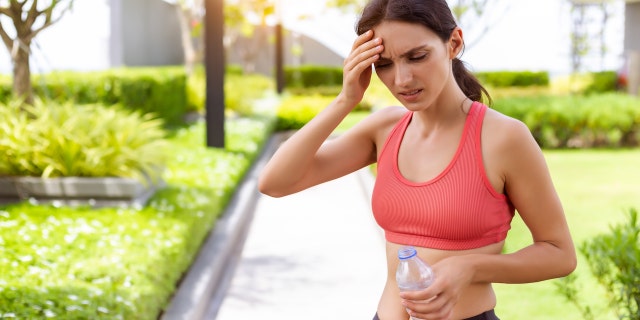 A temperature above 100 degrees Fahrenheit may indicate heat exhaustion, while a temperature above 104 degrees Fahrenheit could be a sign of heat stroke, Healthline's website explained.
When to seek medical attention 
Heat stroke is a medical emergency, per the CDC, so it's always important to call 911 when someone shows signs of the condition.
Use cooling measures while awaiting help. This includes getting the person into shade or a cool environment, said Allamby.
CLICK HERE TO SIGN UP FOR OUR HEALTH NEWSLETTER
"Time is of the essence, and the earlier treatment starts, the better the chance of survival and recovery," he added.
The most effective treatment for heat stroke is immersion in a cold-water bath, Allamby said.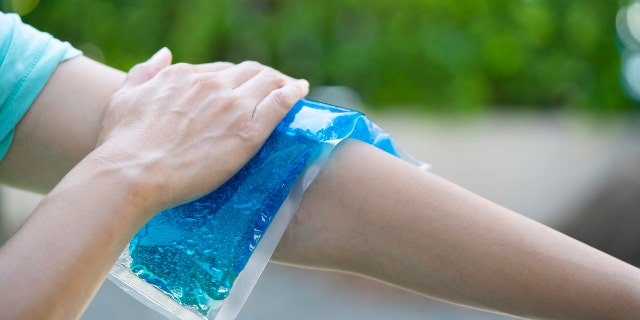 An alternative treatment is to apply ice packs under the arms, in the groin area and around the neck. 
"In the hospital, we can give cold [intravenous] fluids and provide other invasive techniques if needed, so getting them to an emergency department right away is of utmost importance," Allamby explained.
CLICK HERE TO GET THE FOX NEWS APP
"I hope this story helps to remind us to watch out for those who are most vulnerable to heated environments such as this mail carrier, children — especially during the sports training season — and the elderly," he said.
"Please check on your neighbors and the ones you love — and maybe you can save a life."