Russian authorities announced Tuesday a criminal investigation into the armed rebellion led by Wagner Group chief Yevgeny Prigozhin has been closed with no charges filed against anyone involved.
The Federal Security Service said its investigation revealed that the participants in the mutiny "ceased activities directed at committing the crime," according to The Associated Press.
Despite President Vladimir Putin calling them traitors, the Kremlin stated over the weekend that it would not prosecute Prigozhin and his troops after he pulled his men back on Saturday to avoid bloodshed, less than 24 hours after the revolt began.
The charge of mounting an armed mutiny carries a punishment of up to 20 years in prison. 
TIMELINE OF WAGNER GROUP'S STANDOFF THAT SHOOK PUTIN'S RUSSIA
Prigozhin avoiding prosecution contrasts how the Kremlin has been responding to people staging anti-government protests. Many opposition figures in Russia received lengthy prison sentences and are serving time in penal colonies known for harsh conditions.
It remains unclear where Prigozhin is located as of Tuesday. The Kremlin has said it made a deal where Prigozhin would move to Belarus, but neither he nor the Belarusian authorities have confirmed his whereabouts.
A business jet Prigozhin reportedly uses landed near the Belarusian capital of Minsk on Tuesday morning, according to independent Belarusian military monitoring project Belaruski Hajun, but it's not clear if the leader was on it.
Prigozhin's brief rebellion over the weekend was the biggest challenge to Putin's rule in more than 20 years in power.
RUSSIAN WAGNER GROUP GAINS GLOBAL NOTORIETY FROM AFRICA TO UKRAINE, BUT DIVISION BREWS AT HOME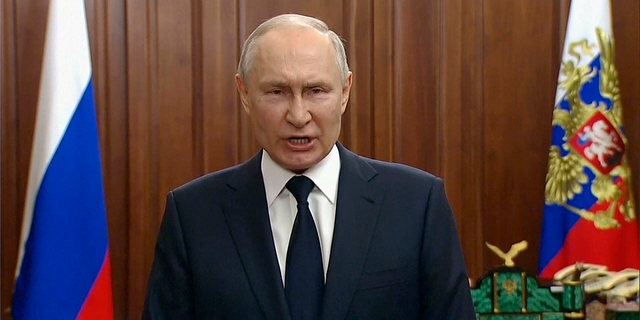 Putin, in a nationally televised speech over the weekend, attempted to show stability and control as he criticized the uprising's "organizers" without calling out Prigozhin by name. The president also praised Russian unity in the midst of the crisis and rank-and-file Wagner Group fighters for not allowing the rebellion to lead to "major bloodshed."
Prigozhin had defended his efforts in an audio statement, in which he taunted the Russian military, but said he did not seek to stage a coup against Putin.
On Monday night, the Kremlin showed Putin meeting with top security, law enforcement and military officials, including Defense Minister Sergei Shoigu, whose removal was demanded by Prigozhin. Earlier on Monday, the Defense Ministry released a video of Shoigu inspecting troops in Ukraine.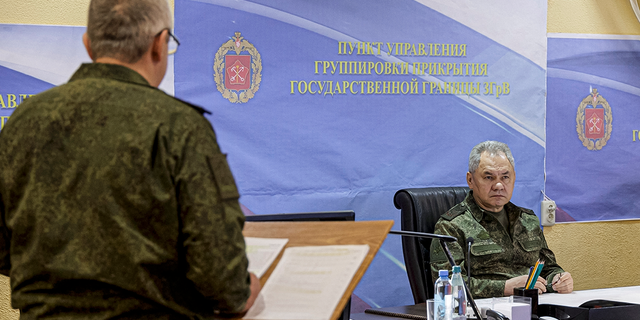 CLICK HERE TO GET THE FOX NEWS APP
During his speech, Putin offered Prigozhin's fighters to either come under Russia's Defense Ministry's command, leave service or depart to Belarus.
Prigozhin said Monday that the Belarusian leadership proposed solutions that would allow the Wagner Group to operate "in a legal jurisdiction." He provided no further details on the extent of those operations. 
The Associated Press contributed to this report.