At the height of the just-concluded "armed uprising" by the Wagner mercenary forces in Russia, Ukraine's Minister of Defense Oleksii Reznikov jumped into the breach. Posting a video online addressed to Russian soldiers fighting in Ukraine, telling them to "…go home, protect your place." Adding, "Take care of your fate, you still have a chance to survive." 
It's the kind of active stance Reznikov assumes with his position which he's held since before the war started last year. Since then, he's been known to U.S. officials and figures around the world as one of the public faces of Ukraine's war effort. Shortly before the "attempted coup" by the Wagner group, and amid complaints of a slower-than-expected start to Ukraine's counteroffensive against Russia, we sat down with the defense chief for his battlefield assessment.
He is small of stature but casts a long strategic shadow. Oleksii Reznikov, 57, was born in the western Ukrainian city of Lviv. He's a snappy dresser with a trimmed goatee and mustache, is friendly and speaks English well. The one-time lawyer in recent years has held a variety of official Ukrainian positions.  
With Ukraine's counteroffensive in its third week, Reznikov described the current maneuvers as "some kind of preparatory operation," acknowledging the Russians had built up "very strong defensive lines." When we asked him whether this was the main assault, for the Ukrainian military, the "blitzkrieg," he bristled, saying "No, no, no."
REPORTER'S NOTEBOOK: RETURN TO UKRAINE WHERE 'TRAGEDY CONTINUES TO TOUCH ALL'
He added, however, that once it fully gets going, it will be successful and "one step closer to victory."
He admitted early expectations were "overestimated" for the offensive, and Ukraine is very careful when it puts its brave and motivated fighting men and women in harm's way. 
"We try to save their lives," Reznikov said. He described the Russian approach to using its troops as a "meat grinder." 
This counteroffensive promises to feature Western-supplied armor like American Bradley fighting vehicles and German Leopard tanks.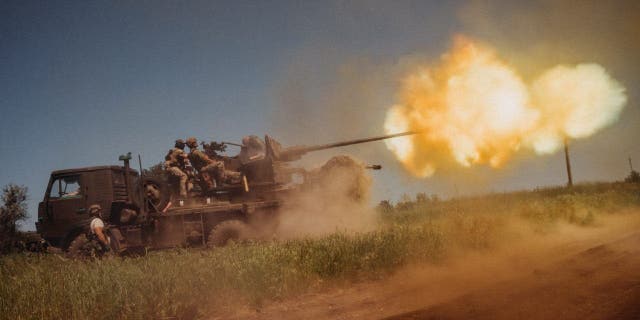 EU UNVEILS MASSIVE, MULTI-YEAR PLAN TO REBUILD UKRAINE
"They are very sophisticated maneuvering," Reznikov said. "The soldiers like them."   
We asked if the gear was arriving fast enough. He replied, "I started asking for these things in February 2022," the month the war started. 
Along with throwing all forms of conventional warfare at Ukraine, Russian President Putin has been talking about and playing the nuclear card. For example, deploying tactical nuclear weapons to neighboring Belarus. We asked Defense Minister Reznikov if it's for real.
"I think, for me, personally, it sounds like a bluff," he replied, adding, "I think the civilized world has arguments against that to persuade him."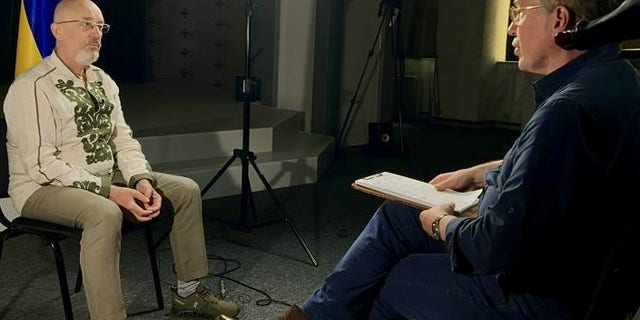 On joining NATO, a strong defense against any nuclear attack from Russia, Reznikov is realistic. 
"I'm sure we will be a full-fledged member, but it will take time," he noted. He was not put off by President Biden's recent comments the U.S. wouldn't make it easy for Ukraine to join.  
"It's in their interest" for NATO countries to have Ukraine as a member because it knows how to "defeat and deter Russian armed forces," Reznikov said.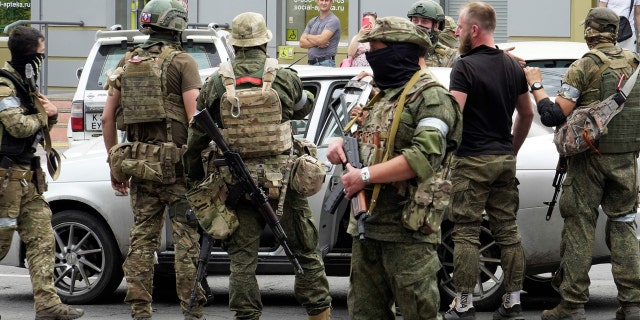 Secretary of State Blinken recently noted gains in the counteroffensive could put Kyiv in a better bargaining position with Moscow. Reznikov was firm that there would be no talking with Russia until Ukraine's original borders were restored, his "redline." 
"We will be ready to discuss postwar co-existence (with Russia) when they get out of our land," he said.
According to Reznikov, the U.S. is a "very important" ally of Ukraine. 
"Number one," he said holding up his finger. "It's a serious country with serious potential," he added, "with serious resources and a serious capability to persuade other countries to join to this coalition."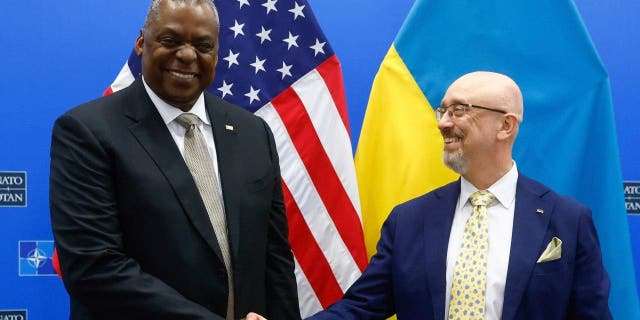 He said he wasn't worried about weakening of support in the U.S. for military aid to Ukraine, especially among Republicans. 
"I like the American 'invention … bipartisan,'" he said. "For me, it sounds very familiar. I am absolutely sure we will have the same level of support."
We asked Defense Minister Reznikov the most important question: Will Ukraine be victorious? 
"My gut feeling is we will win this war because we are fighting for our country," he replied. 
CLICK HERE TO GET THE FOX NEWS APP
We asked him how long would it take. Months? Years?  
"This year will be a game changer," he said, indicating there would be at least some kind of pathway to the finish of this ugly war. 
"We have to," he concluded determinedly, "it's our idea." A lot of people are hoping that "idea" is right.