Reporters grilled White House officials on President Biden's economic record as he tried to rebrand for his 2024 re-election campaign on Tuesday.
Principal Deputy Press Secretary Olivia Dalton defended Biden's economy during a press briefing at the White House on Tuesday. Reporters pointed to polls showing that Americans are deeply skeptical of Biden's ability to keep the economy stable amid global challenges.
"According to our last poll, 54 to 36 percent say Donald Trump did a better job handling the economy when he was president than Biden has done so far. You aren't announcing anything new necessarily this week. You are just highlighting and touting what you've done. Is that enough?" a reporter asked.
"Well, what I would say to you is look at where we were when we came into office," Dalton responded. "After 4 years of Donald Trump unemployment was over 6 percent, and today we are standing here at a time where unemployment is at historic lows."
KARINE JEAN-PIERRE SPARS WITH REPORTERS, REFUSES TO ANSWER HUNTER BIDEN QUESTIONS IN TESTY EXCHANGES
KARINE JEAN-PIERRE DODGES QUESTION ALLUDING TO HUNTER BIDEN'S ATTENDANCE AT WHITE HOUSE STATE DINNER
"We've seen inflation come down 50 percent over the last year — 11 months straight inflation has come down," she continued. "Our economy has recovered faster than any major economy in the entire world, and that's happening because of President Biden's leadership."
The exchange came just one day after White House press secretary Karine Jean-Pierre was put on her heels regarding her claim that Americans are feeling better about their personal finances under President Biden.
"Look, 13 million jobs, again, when you think about how Americans feel better about their personal finances, that is important. When you think about wages are going up, when you think about the really good paying, millions of good-paying jobs, union jobs that his policies are going to create, all the things are really incredibly important. So the president's going to continue to speak to that. And that's what we believe we're going… that is our, you know, our priority to do," Jean-Pierre said during Monday's briefing.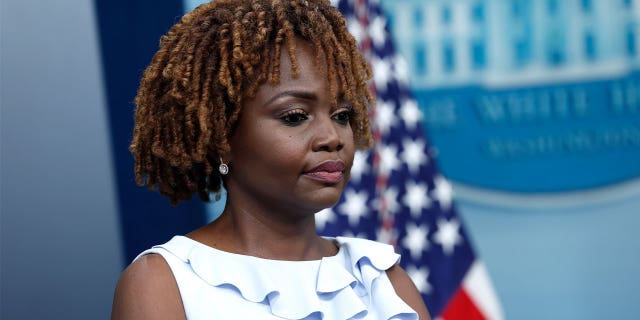 Several Twitter users pushed back against the claim, joking that only one family has benefited from Biden's economic policies.
CLICK HERE TO GET THE FOX NEWS APP
"What world is she living in? Inflation is the highest it's been in 40 years. Nearly 80% of Americans think the country is headed in the wrong direction. A vast majority of Americans can't find $1k in emergency funds. Biden has FAILED America," Rep. Wesley Hunt, R-Texas, wrote.