Brig. Gen. Pat Ryder at a press conference Tuesday reiterated that the U.S. was not involved in the weekend's short-lived Russian mutiny by Wagner troops led by Yevgeny Prigozhin. 
"As you've heard the White House and State Department say, we view the security situation in Russia as an internal Russian matter," Ryder said. 
The press conference came after the Department of Defense announced a $500 military aid package to Ukraine – including more than 50 armored vehicles and an infusion of missiles for air defense systems. 
Ryder declined to comment on whether the mutiny will impact Russian President Putin's grip on power. He denied that the timing of the latest military aid package to Ukraine had any relation to the mutiny.
PRIGOZHIN MOVE TO BELARUS COULD BE STRATEGIC MOVE BY PUTIN, THREATEN BORDERING NATO COUNTRIES: EXPERT 
"There was no linkage to any connection," Ryder said. "We have a process that we've been employing for a while now, and this is part of that." 
Ryder would neither confirm nor deny that the Pentagon was aware of the current status of Prigozhin who, much to the dismay of Western analysts and the world, struck a deal with Putin to halt the uprising and move to Belarus.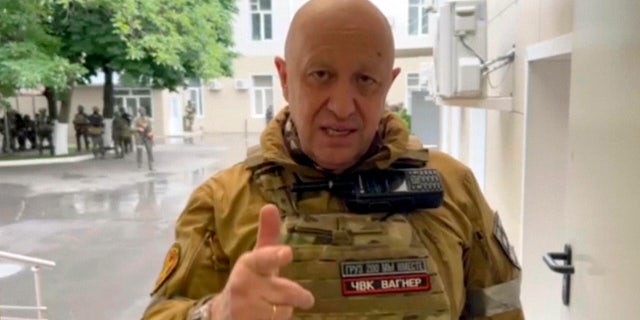 The FSB, Russia's main domestic security agency, said Tuesday it had dropped a criminal investigation into the mutiny, with no charges against Prigozhin or any of the other participants – despite about a dozen Russian troops killed in clashes. 
Asked if the Pentagon could confirm whether Prigozhin was still alive are whether we're in a "weekend at Bernie's scenario" Ryder would comment on neither. 
"I have many responsibilities, but press secretary for Mr. Prigozhin is not one, so I can't comment on his current status," Ryder said. 
Belarusian President Lukashenko said Tuesday that Prigozhin had arrived in Belarus, and said he and some of his troops were welcome to stay "for some time" at their own expense. 
CLICK HERE TO GET THE FOX NEWS APP
Prigozhin has not been seen since Saturday. He issued a defiant audio statement on Monday. On Tuesday, a private jet believed to belong to him flew from Rostov to an air base southwest of the Belarusian capital of Minsk, according to data from FlightRadar24. 
The Associated Press contributed to this report.