Pennsylvania law enforcement officials arrested 11 people, including one juvenile, who were allegedly involved in a catalytic converter ring responsible for more than $8 million in thefts across the Delaware Valley.
The Bucks County District Attorney's Office said a nearly year-long investigation led to charging Philadelphia-based TDI Towing, 10 adults and a juvenile with crimes including corrupt organizations, criminal conspiracy, dealing in proceeds of unlawful activity and related charges.
Catalytic converter thefts across the nation, including Bucks County, have skyrocketed over the past few years, mainly because of three precious metals found inside — rhodium, platinum and palladium.
NEW YORK BROTHERS ALLEGEDLY TRAFFICKED CATALYTIC CONVERTERS, STRIPPED THE PRESCIOUS METALS AND MADE MILLIONS
The value of the three metals skyrocketed during the pandemic because of supply chain issues, and those metals can be extracted from catalytic converters and sold.
The units can also be cut out of vehicles in about a minute, making it a cash grab for thieves.
Between 2020 and 2023, the DA's office said, thousands of catalytic converts were taken from vehicles in Bucks County, resulting in costly repairs.
ILLINOIS AUTHORITIES FIND MORE THAN 600 CATALYTIC CONVERTERS IN A SINGLE BUST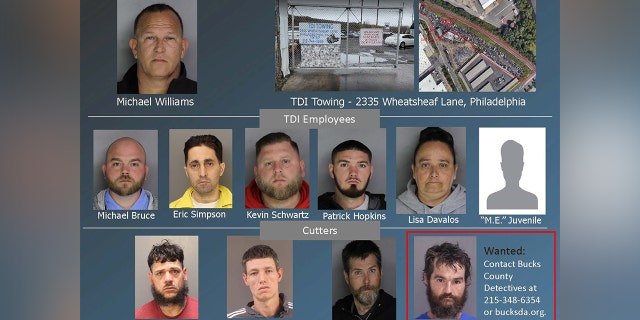 Investigators claim TDI Towing was the main purchaser of catalytic converters that were stolen in Buck and Montgomery counties.
The towing company allegedly paid about $1,000 for a single catalytic converter and would pay out a minimum of $10,000 a night to thieves who went to the tow yard to sell the units.
TDI Towing advertised its operating hours as daytime, though people would show up throughout the night to sell catalytic converters, the DA's office said.
An investigation involving thousands of hours of surveillance at the tow yard, controlled sales and other advanced techniques helped detectives identify thieves and purchasers.
MASSACHUSETTS MEN WITH SPEED OF 'NASCAR PIT CREW' ALLEGEDLY STOLE 470 CATALYTIC CONVERTERS WORTH $2 MILLION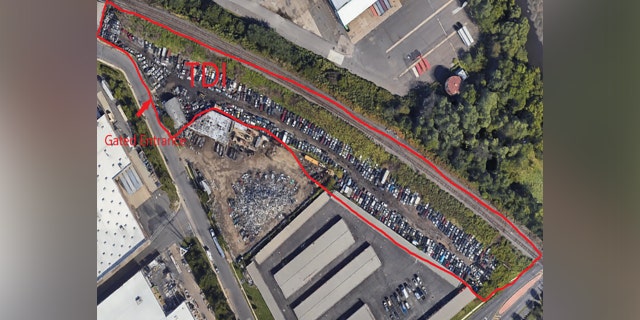 Investigators allege that for about three years, TDI Towing bought an average of 175 catalytic converters a week, or 27,300 during those three years, with employees paying an average of $300 per unit, for $8.2 million.
Michael Williams, 52, of Philadelphia operated TDI Towing, and his organization consisted of some people who had a family connection, including his sister-in-law Lisa Davalos, 47.
The DA's office said other employees at the tow yard included Eric Simpson, 41, of Philadelphia; Michael Bruce, 30, of Sewell, New Jersey; Kevin Schwartz, 33, of Philadelphia; Patrick Hopkins, 24, of Philadelphia; and a 17-year-old juvenile.
153,000 CATALYTIC CONVERTERS WERE STOLEN IN 2022, AND THESE 10 VEHICLES ARE THE TOP TARGETS
Williams is accused of taking the catalytic converters to another location to sell them every week, sometimes more than once a week.
The DA's office identified the cutters, or thieves, as Michael Evangelist, 35, of Philadelphia; Anthony Davalos, Sr., 43, of Philadelphia; Richard Allan Page, 39, of Warminster; and Gary Shirley, 48, of Hatboro.
Everyone has been arraigned except for Page, who detectives are attempting to locate.
TDI and its employees have been charged with corrupt organizations, criminal conspiracy, dealing in proceeds of unlawful activities, theft by unlawful taking, theft of catalytic converter, theft by receiving stolen property, possession of an instrument of crime and criminal use of a communication facility.
CLICK HERE TO GET THE FOX NEWS APP
The investigation is ongoing, and according to the DA's office, additional people may be charged for their involvement in the theft and trafficking of catalytic converters.