NASA kicked off a 378-day mission on Sunday in which a crew of four volunteers will be locked in a ground-based simulation of the planet Mars, at the Johnson Space Center in Houston, Texas.
The mission, NASA said, is the first of three year-long Mars surface simulations called Crew Health and Performance Exploration Analog, or CHAPEA.
The data acquired through the simulations is intended to help NASA prepare for human exploration of Mars.
The four-person crew consists of Commander Kelly Haston, a research scientist with experience in stem cell-based projects; flight engineer Ross Brockwell, a structural engineer and public works administrator; medical officer Nathan Jones; and science officer Anca Selariu.
NASA PREPARES MARS MISSION ON EARTH FOR 4 VOLUNTEERS
With backgrounds in science and engineering, the crew members will be part of a simulated mission to Mars, where the crew will eat, drink and exercise while in simulation.
The 1,700-square-foot, 3D printed facility is about the size of a three-to-four-bedroom house and will be used for NASA's longest analog mission to date: 378 days.
NASA'S WEBB SPACE TELESCOPE FINDS WATER AROUND MYSTERIOUS MAIN BELT COMET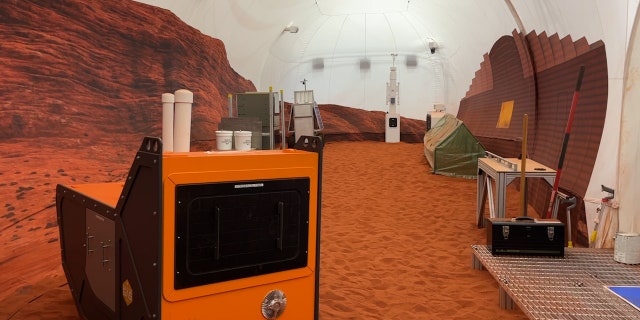 The habitat will be a place where the crew will practice personal hygiene and healthcare, like drawing blood, while also allowing them to exercise, grow food and collect geological samples.
The habitat will be packed with all the supplies that will go to Mars. What the habitat will not be able to simulate, though, is the red planet's gravity.
But that is where virtual reality comes into play. While in the habitat, virtual reality will allow crew members to simulate space walks or Mars walks, as well as other tasks the crew may encounter on Mars, including removing dust from the space suit or solar panels or repairing the habitat.
NASA'S JUNO SPACECRAFT WILL FLY BY JUPITER'S VOLCANIC MOON IO
As crew members live within the confines of the simulator, scientists will be measuring their performance, cognition and health over the year to understand what the crew will go through.
The data collected will then be handed to the vehicle planners.
On Sunday, the crew members, all wearing black jumpsuits, waived as they entered the habitat. Once the door was closed, Dr. Grace Douglas, who heads CHAPEA, said one last thing.
CLICK HERE TO GET THE FOX NEWS APP 
"CHAPEA mission one is a go," she said.