During a recent episode of "The Stephen A. Smith Show" podcast, the longtime sports commentator weighed in on the Titan submersible tragedy.
After conducting a search that lasted several days, the Coast Guard confirmed that a "catastrophic implosion" killed all five passengers on board the submersible that was traveling towards the sunken Titanic.
But, Smith said he could not understand why anyone would want to visit the wreckage of the famous passenger liner.
CLICK HERE FOR MORE SPORTS COVERAGE ON FOXNEWS.COM
"It's a tragedy," the television host solemnly began. "But certain things in life dare I say are unnecessary."
MISSING TITAN SUBMERSIBLE FOUND: SEE THE KEY VESSELS THAT AIDED THE DESPERATE SEARCH
He then appeared to momentarily get sidetracked and commented on Batman's status in the superhero pantheon. 
"I love the movie Aquaman," Smith noted. "I don't consider Batman a super man. I just consider him a human being with a costume on. When I watched Jason Momoa in Aquaman, it had me wishing I was Aquaman."
Smith then admitted that he personally tends to avoid many "adventurous" activities.
"I'm not the most adventurous brother in the world," he noted. "I'm not trying to skydive. I'm not a fish. I'm still mad at Shaq [O'Neal] when he did that damn experiment with the sharks. What the hell's wrong with you?"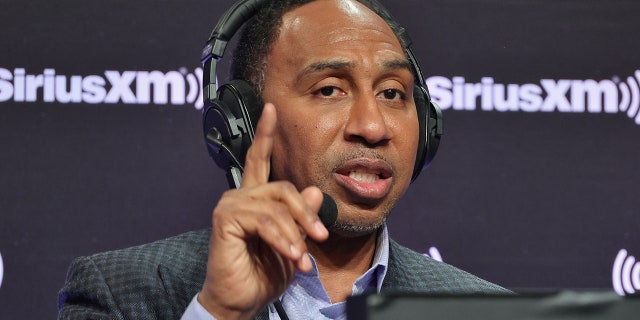 The sports analyst and longtime "First Take" host then appeared to suggest that Leonardo DiCaprio's role in James Cameron's 1997 film should have satisfied everyone's curiosity as it relates to the Titanic. 
"And by the way when are going to get over the Titanic?' he asked. "It's a ship that sunk. Leonardo DiCaprio. We appreciate you. We got it okay."
Smith did acknowledge that he was not taking the loss of life lightly in any way, but he also questioned why the passengers were so curious to view the site of the wreck.
"I'm not laughing. I'm not joking," he added. "I'm not making light of people who passed away. God rest their wonderful souls. But forgive me that curiosity does kill the cat. Why are you that damn curious?"
"You want to put on something so that you can swim with the fish or whatever? I guess that's reasonable. What in God's name would make you think it's okay to get in a submersible? What is there to say? Investigate what? Who does not know that a human being does not need to be two miles below sea level in the ocean?"
CLICK HERE TO GET THE FOX NEWS APP
OceanGate CEO Stockton Rush, Titanic expert Paul-Henri Nargeolet, British billionaire Hamish Harding, Pakistani businessman Shahzada Dawood and his 19-year-old son Suleman Dawood were all confirmed dead after a debris field was found approximately 1,600 feet from the Titanic wreckage.