3-D printed guns. A key buzzword tossed around the homes of our governing body for the past several years. It led to discussions around the safety and accountability of these weapons and the ultimate regulations required to minimize the risk these computer-manufactured arms pose to the public. Will our government officials have the same interest in 3-D printed food? Likely not, although it's just as fascinating. 
CLICK TO GET KURT'S FREE CYBERGUY NEWSLETTER WITH SECURITY ALERTS, QUICK TIPS, TECH REVIEWS AND EASY HOW-TO'S TO MAKE YOU SMARTER 
On today's menu of technological innovations that will blow your mind is a buttery graham cracker crust cheesecake made of a creamy blend of cream cheese, peanut butter, strawberry jam, Nutella, and a banana puree — all printed from a machine. No, not the bodybuilding chef Robert Irvine, who I refer to as "the Machine," an actual mechanical piece of equipment. The wonders of technology never cease to amaze. 
Rather than wasting time on 3-D printing bizarre yet extremely incredible figurines of Dwayne "The Rock" Johnson as an octopus or a lobster, researchers have unlocked the ultimate purpose of a 3-D printer. 
HOW DRONES ARE REVOLUTIONIZING DELIVERY BY TAKING TO THE SKIES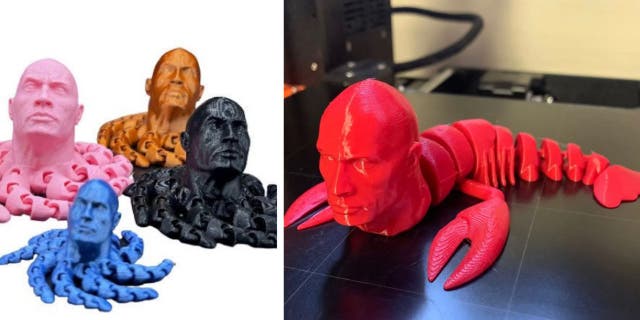 It is printing food. Safe to ask, did some of these researchers have the munchies? That's right, through 3-D printing, a team of hungry researchers made a cheesecake that looks … semi-appetizing, with all honesty. By squeezing out each ingredient, including graham cracker paste, peanut butter, strawberry jam, Nutella, banana puree, cherry drizzle, and frosting, out of a syringe in thin lines, they were able to form the layered dessert. 
FOR MORE OF MY ALERTS ON THE LATEST TECH, SUBSCRIBE TO MY FREE CYBERGUY REPORT NEWSLETTER BY HEADING TO CYBERGUY.COM/NEWSLETTER  
According to Jonathan Blutinger, a mechanical engineer at Columbia University, "when you bite into it, you feel the flavors hit you in different waves. I think that's a function of the layering inside the structure." 
Blutinger admits that the cheesecake's success depends on its taste, and although this is not a conventional mix, it was necessary to keep the cheesecake standing.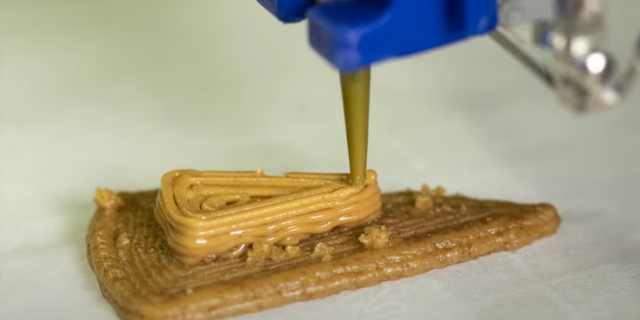 Currently, the 3-D printed cheesecake is around 70% graham cracker, which I enjoy, so I wouldn't mind trying it. Early versions of the cake relied on a lot less graham cracker paste. Still, after several failed attempts, the team decided to add layers of graham cracker paste throughout the slice, creating wells from the sturdy, drier ingredients, with walls that were thick on the bottom and thinner on top. Then, they deposited the wetter ingredients inside the wells to support them. This was done to maintain a solid base throughout the desert and prevent it from collapsing.
MORE: NEBRASKA MAN GETS 3D-PRINTED FINGER REPLACEMENT 20 YEARS AFTER TRAGIC MISHAP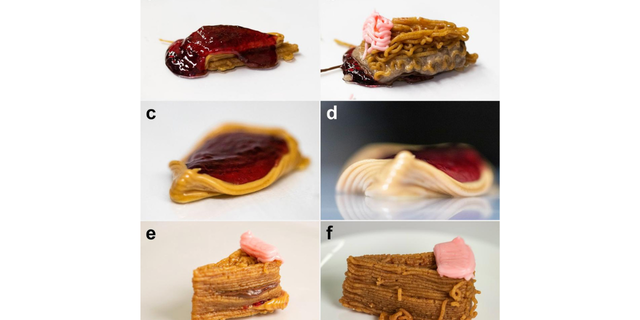 This cheesecake is not the first attempt at 3D-printed food. Other companies are working on 3D-printed plant-based meat. NASA has been investigating 3D-printed food for astronauts to eat on long trips in space, and a UK company called Food Ink has begun working on a restaurant fully powered by 3-D printing. 
People can soon buy 3D printers for cooking in their homes. However, the price could run up to $1,500, and the printers would need recipes to function. Although it would be neat to simply insert a thumb drive of a pizza in code form and, viola, a Prince Street-style pizza printed right out of a machine. 
MORE: THAT'S NOT A HUMAN TALKING TO YOU IN THE FAST FOOD DRIVE-THRU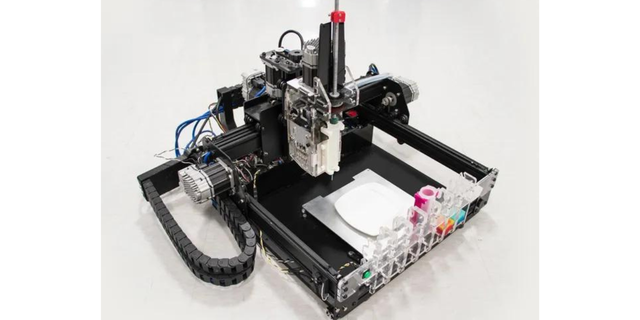 Kurt's key takeaways 
Researchers say that 3D printing could help with meal planning and make food more sanitary by reducing human handling. I'm not so convinced. Just like AI-generated sermons, jokes, essays, novels, art, or whatever else AI spits out, does the use of machines to construct food (an art form in itself) diminish the nature of creativity and the role of humans in the creative process? Would it lack human emotion (Love! The most important ingredient of all), experience, and soul that adds that special something to your dish? Or is it just a new tool for skilled chefs or food scientists to explore new culinary frontiers and push the boundaries of what is possible in the kitchen? 
Either way, experts do not see such devices taking over people's homes. They may become more useful in restaurants and cafeterias where loading ingredients and software programs could be done during slack hours. 
So, are you ready to take a bite out of a 3D-printed cheesecake? Let us know by writing us at Cyberguy.com/Contact 
CLICK HERE TO GET THE FOX NEWS APP
For more of my alerts on the latest high-tech gadgets, subscribe to my free CyberGuy Report Newsletter by heading to CyberGuy.com/Newsletter 
Copyright 2023 CyberGuy.com.  All rights reserved.