During an interview with former President Barack Obama Thursday night, CNN host Christiane Amanpour asked him whether the supposed "White-lash" against his presidency was "receding."
"You're the first Black president. When Trump was elected, somebody who used to work for you and now is an analyst, Van Jones, said 'White-lash,' it was the White-lash against a Black presidency. Do you think the White-lash is receding?" Amanpour asked the 44th president.
Before getting his answer, Amanpour added: "And I guess combined with that, how do you interpret two candidates of color, Nikki Haley, former governor of South Carolina, Tim Scott, senator of South Carolina, who is saying that Obama wants to keep, essentially, race as part of the equation, a part of the conversation, and you don't believe that everybody has an equal chance in the United States, no matter what their color."
OBAMA SUGGESTS DEMOCRATS HAVE 'LESS TOLERANCE FOR IDEAS THAT DON'T SUIT US' THAN WHEN HE WAS IN OFFICE
Obama began his response by dismissing the criticism from the Republican presidential candidates: "Well, look, I won't comment on what Republican candidates say. I'm not running, so they can – they can find other ways to occupy their time."
"I think race has always been the fault line in America, life in American politics, that's not original to me, and I think any observer in America would say that," he said.
Obama remarked moments later that his election did not signal the end of racial tensions in the country.
"So, it is something that America has had to grapple with for centuries," he said. "I think we have made real progress. And, you know – although I was always skeptical that my election somehow signified a post-racial America."
He then seemed make a comparison between America reckoning with racism to Germany confronting its past of Nazism and the Holocaust.
"We reckon with our history, that's how we then get better, that's how we perfect our union," he said. "You know, in the same way that Germany got better when it looked squarely at what happened during World War II and came to terms with that. And that's part of why it is a thriving, stable and increasingly diverse society."
CNN's CHRISTIANE AMANPOUR CALLS OUT BOSS CHRIS LICHT, OFFERS STUNNING REBUKE OF TRUMP TOWN HALL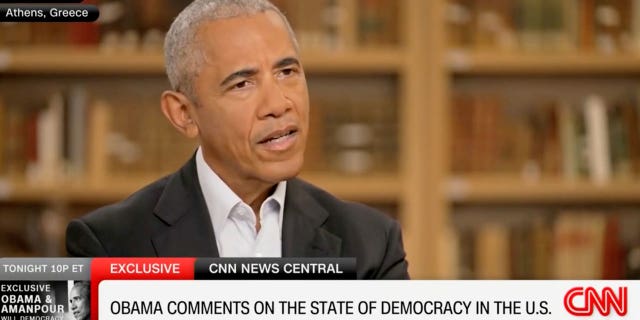 "And by the way, that us/them dynamic is not just around race," Obama noted. "I would argue that in the United States, and I would suspect in Europe as well, changing gender roles have fueled at least as much of a backlash as the racial backlash. This enormous fear among men, and those who like the traditional structures and hierarchies and patriarchy, get very nervous when you have women suddenly being outspoken and thinking they should have the same rights and powers men do, and when you have people of different sexual orientation saying, 'I'm here, and I want a seat at the table, that has been very threatening.'"
Earlier in the same interview, Obama told Amanpour that "obscene inequality" in the world was a threat to the health of democracy. As an example, he cited the disparity in media coverage of the sinking of a migrant boat in the Mediterranean versus the amount of attention given to the Titanic submersible tragedy in the North Atlantic.
Although Obama claimed to Amanpour not to comment on GOP candidates, he did tell former adviser David Axelrod in a recent podcast interview that minority Republicans like Scott and Haley had a tendency to romanticize the country.
CLICK HERE TO GET THE FOX NEWS APP
"I think there's a long history of African-American or other minority candidates within the Republican Party who will validate America and say, 'Everything's great, and we can make it,'" he said at the time.