The world watched in shock this weekend as Russian President Vladimir Putin faced the greatest threat to his leadership since he assumed the role more than 20 years ago as Wagner mercenary forces mutinied and looked to storm Moscow. 
But just as quickly as the situation escalated, the threat against Moscow appeared to evaporate after Wagner chief Yevgeny Prigozhin ordered his men to stop their march and instead reportedly head for Belarus following an obscure deal brokered by Belarusian President Alexander Lukashenko. 
Prigozhin resurfaced for the first time since the agreement was reached Saturday in a Monday audio message posted to his Telegram, though his location remains unclear. 
Here's how the events unfolded:
Friday, June 23
– Tensions erupted Friday after Prigozhin released a video on Telegram that directly contradicted Russian President Vladimir Putin's justification for his illegal invasion of Ukraine in February 2022.
The mercenary leader not only said there was no threat from Ukraine against Russia, but that Kyiv had no plans to join the NATO alliance to take up arms against Moscow. He also claimed this misinformation was down to lies supplied by the Ministry of Defense to deceive Putin and Russian society.
– The Wagner leader posted a series of clips in which he also accused the Russian defense ministry of firing a rocket strike upon Wagner mercenaries in Ukraine. 
Prigozhin called for the ousting of Defense Minister Sergey Shoigu and chief of the general staff, Valery Gerasimov, and said his troops would punish them for their actions.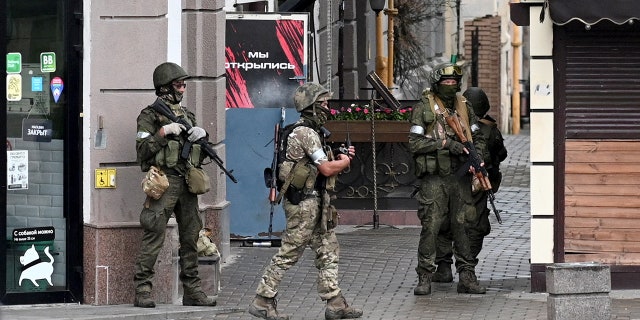 Saturday, June 24
– By early Saturday Prigozhin said his forces had crossed the Ukraine-Russia border and had taken control of the military headquarters in the southern Russian city of Rostov-on-Don.
Images and videos surfaced showing Wagner mercenaries, tanks and vehicles in the city that it apparently took without a fight from Russian citizens or forces.
The city was a significant take for Prigozhin as it is not only the largest city in southern Russia but also the headquarters of the Russian southern military district command, whose 58th Combined Arms Army is fighting in southern Ukraine.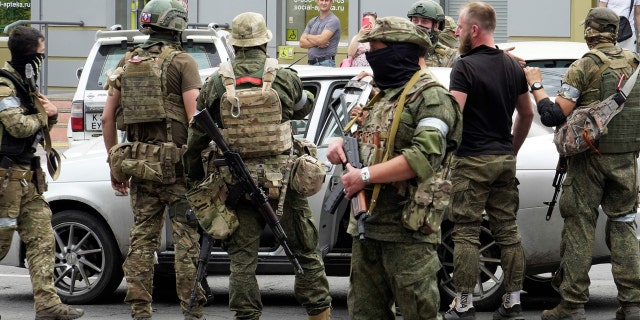 – As many as 25,000 Wagner mercenaries were alleged to have followed Prigozhin into Russia to not only take the southern city but to push north towards the Voronezh region on their eventual way to Moscow. 
Russia's Federal Security Service (FSB) responded by launching a criminal investigation against Prigozhin and accused him of launching what amounted to a mutiny.
In a statement the FSB called Prigozhin's actions a "stab in the back" to all Russian soldiers and urged Wagner troops "not to make irreparable mistakes, to stop any forceful actions against the Russian people, not to carry out the criminal and treacherous orders of Prigozhin, and to take measures to detain him."
Prigozhin insisted his rebellion was not "a military coup" but a "march of justice."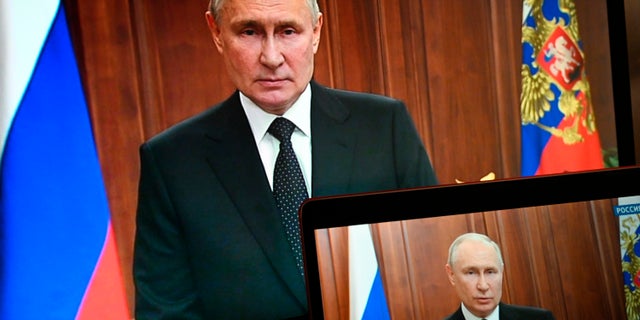 – By 10 a.m. Putin gave a televised address calling Prigozhin's actions an "armed mutiny" and a "knife in the back of our country and our people," though he never named Prigozhin directly. 
"Inflated ambitions and personal interests have led to treason — treason against our country, our people and the common cause which Wagner Group soldiers and commanders were fighting and dying for shoulder to shoulder, together with our other units and troops," he said.  "Their memory and glory have also been betrayed by those who are attempting to stage a revolt and are pushing the country towards anarchy and fratricide — and ultimately, towards defeat and surrender."
– Reports began to surface that Wagner forces had entered the Voronezh region and shortly after 11:40, and the governor of the region, Aleksandr Gusev, took to Telegram to say that Russian forces were "conducting necessary operational and combat activities" in a "counterterrorism operation," reported the Kyiv Independent. 
– Chechen leader and Putin ally Ramzan Kadyrov said that Chechen forces had been sent to the "conflict zones" in Russia.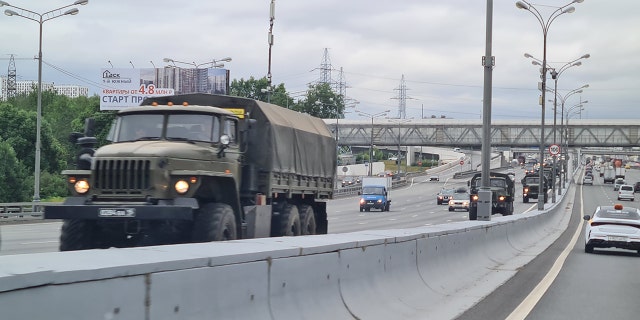 – Prigozhin responded to Putin's address in a video message posted to his Telegram and said his Wagner forces would not back down "because we don't want the country to continue living in corruption, deceit, and bureaucracy."
Moscow Mayor Sergei Sobyanin urged residents to stay indoors and declared Monday a day off work as the Russian National Guard worked to defend the city from a possible attack.
A machine gun position was set up by Russian soldiers on the southwest edge of Moscow as armed police gathered south of the city on the M4 highway, which was being used by Wagner mercenaries to advance.
– The U.S. and its NATO allies said they were closely monitoring the situation.
– By 1:30 p.m., Putin's office announced he had held phone conversations with the leaders of Belarus, Kazakhstan and Uzbekistan regarding the "situation" in Russia.
– Around 4 p.m., reports began to surface alleging that Russian military helicopters had opened fire on a convoy of Wagner mercenaries that were reportedly more than halfway towards Moscow.
Russian news outlet Tass reported that Wagner forces were offered amnesty if they laid down their weapons, though the report has since been taken down.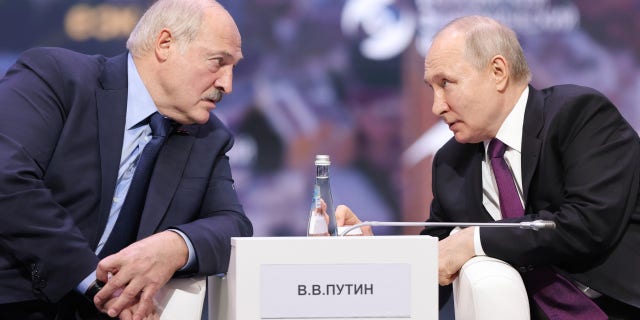 – By 4 p.m., Lukashenko claimed he brokered a deal between Putin and Prigozhin as Wagner forces were reported to have reached an area known as Yelets, roughly 250 miles south of Moscow.
CLICK HERE TO GET THE FOX NEWS APP
– Around 8:30 p.m. Moscow time, Prigozhin released an audio message through his press service's Telegram account that said that he had decided to end the mutiny and turn his troops around to avoid more bloodshed. 
"They wanted to disband the Wagner military company. We embarked on a march of justice on June 23. In 24-hours we got to within 200 km [125 miles] of Moscow. In this time we did not spill a single drop of our fighters' blood," he said according to a translation by Reuters. "Now the moment has come when blood could be spilled. Understanding responsibility [for the chance] that Russian blood will be spilled on one side, we are turning our columns around and going back to field camps as planned."
Prigozhin and his Wagner forces that joined in the rebellion have allegedly been offered safe heaven in Belarus, though the terms of the agreement remain unclear.
Remaining Wagner forces in Ukraine that did not join the mutiny will be absorbed in Russia's military.
Reuters contributed to this report.