Russian President Vladimir Putin addressed his country Monday for the first time since the end of a short-lived mutiny of Wagner mercenary troops led by Yevgeny Prigozhin over the weekend. 
In a short speech, Putin said the mutineers "betrayed the country, their people and those who they dragged into this affair." 
"The enemies of Russia wanted, the Nazis in Kyiv and their Western sponsors and various assorted traitors, wanted bloodshed. They wanted Russian soldiers to kill each other. They wanted peaceful civilians and military personnel to die so that in the end Russia is defeated, our society is fractured and choked on the blood of internal strife," Putin said.  
Putin stopped short of mentioning Prigozhin by name. Earlier Monday, Prigozhin defended his short-lived insurrection. 
TIMELINE OF WAGNER MERCENARY GROUP'S STANDOFF THAT SHOOT PUTIN'S RUSSIA
The Wagner leader said he wasn't seeking to stage a coup but was acting to prevent the destruction of his private military company, which has played a key role in the war in Ukraine. 
"We started our march because of an injustice," he said in an 11-minute statement, giving no details about where he was or what his plans were.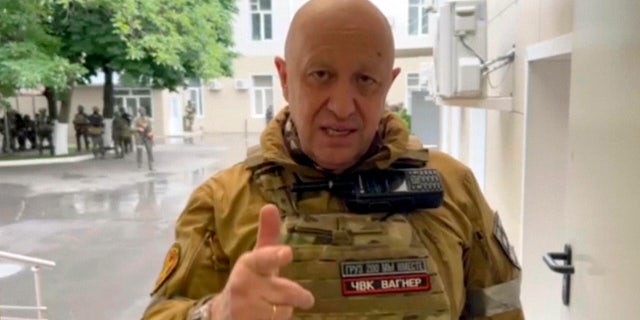 Putin's speech showed the despot trying to project strength to the nation after one of the most significant challenges to his leadership after more than two-and-a-half decades in power. 
Putin said that most Wagner troops are also Russian patriots "loyal to their state" and thanked those who did not participate in the mutiny. 
BIDEN MAKES FIRST PUBLIC COMMENTS ON WAGNER REVOLT IN RUSSIA: 'WE HAD NOTHING TO DO WITH IT'
The Wagner troops, he said, were "being used (in the dark) and they were being directed against their brothers in arms." 
"This is why from the very beginning steps were being taken to avoid bloodshed," Putin said. "We also wanted to give a chance to those who have made a mistake to understand that their actions are rejected by this society and their actions would have resulted in destructive consequences for Russia, they were being dragged into a plot."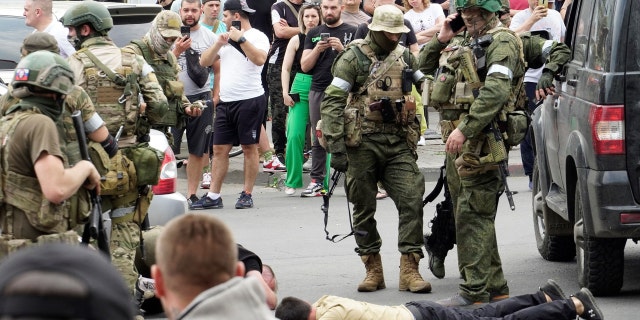 Putin extended an offer to Wagner troops to continue their service to Russia by signing a contract with the Ministry of Defense or return to their families. 
"The promise I gave will be fulfilled. I repeat, the choice is up to you," he said. 
The feud between the Wagner Group leader and Russia's military brass has festered throughout the war, erupting into a mutiny over the weekend when mercenaries left Ukraine to seize a military headquarters in a southern Russian city. They rolled seemingly unopposed for hundreds of miles toward Moscow before turning around after less than 24 hours on Saturday.
BIDEN ADMIN SAYS IT DOESN'T KNOW WHERE WAGNER GROUP LEADER YEVGENY PRIGOZHIN IS AFTER SHORT-LIVED MUTINY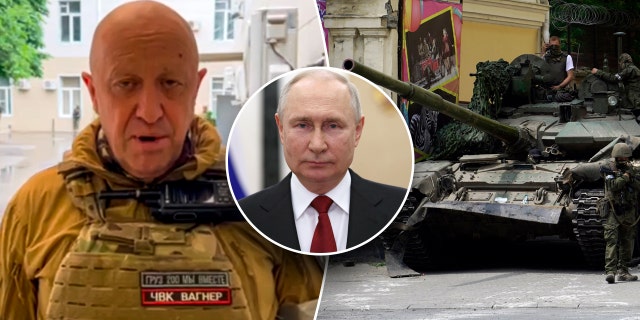 The Kremlin said it had made a deal for Prigozhin to move to Belarus and receive amnesty, along with his soldiers. There was no confirmation of his whereabouts Monday, although a popular Russian news channel on Telegram reported he was at a hotel in the Belarusian capital, Minsk.
Prigozhin taunted Russia's military on Monday, calling his march a "master class" on how it should have carried out the February 2022 invasion of Ukraine. He also mocked the military for failing to protect Russia, pointing out security breaches that allowed Wagner to march 500 miles toward Moscow without facing resistance.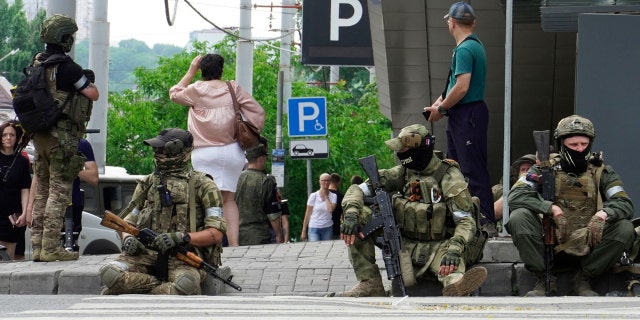 The bullish statement made no clearer what would ultimately happen to Prigozhin and his forces under the deal purportedly brokered by Belarusian President Alexander Lukashenko.
Though the mutiny was brief, it was not bloodless. Russian media reported that several military helicopters and a communications plane were shot down by Wagner forces, killing at least 15. Prigozhin expressed regret for attacking the aircraft but said they were bombing his convoys.
CLICK HERE TO GET THE FOX NEWS APP
Russian media reported that a criminal case against Prigozhin hasn't been closed, despite earlier Kremlin statements, and some Russian lawmakers called for his head.
The Associated Press contributed to this report.