Police in Washington, D.C., are being accused of shooting a man in a case of mistaken identity, and the mother who reportedly witnessed it all go down is speaking about the incident.
"You know you shot the wrong person," Dorothy Hoes told FOX 5 about the officer-involved shooting that occurred around 10 a.m. Friday on Good Hope Road on the southeast side of the city. 
Hoes says as of Sunday her son, 38-year-old Steven Shaw, was still handcuffed to a bed in ICU, and she was not able to see him. 
Police were originally called out for an altercation. When they arrived, they found a woman who told police a man hit her with a metal box, threatened her and took off.
TEEN BOYS KILL 71-YEAR-OLD MAN AFTER STEALING CAR, CRASHING INTO HIM: POLICE
One officer started searching the area for the suspect the woman described, and approached Shaw, who was sitting in the passenger seat of a parked car with Hoes.
"I'm the young lady that was driving the car that Steven Shaw was shot in," Hoes said.
She says the officer asked Shaw to step out of the car several times.
"Steve was like 'I'm not getting out my mother's car because I didn't do anything,'" she adds.
Police say Shaw did not comply and reached into his waistband before the officer fired his weapon.
"I seen when he shot him. I saw the light and then the smoke and Steven said, 'Man why did you shoot me?'" Hoes said.
TEEN GIRL FACING MURDER CHARGES FOLLOWING DOUBLE STABBING THAT LEFT WOMAN DEAD, TEEN INJURED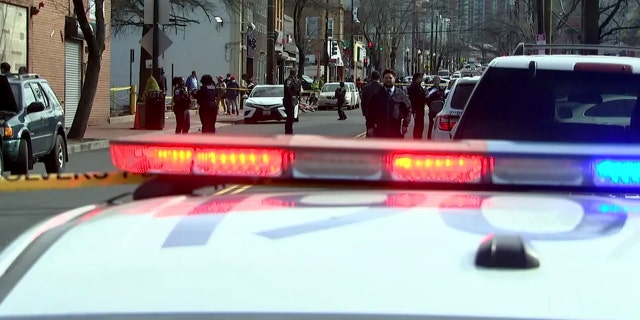 CLICK HERE TO GET THE FOX NEWS APP
Shaw was taken to a hospital for surgery, where he was placed under arrest for possession with intent to distribute cocaine.
Another man, 59-year-old Wallace Lewis, is facing several charges in connection with the assault and reportedly is the man police were originally searching for.
Police say the officer involved in the shooting is on administrative leave, and body camera footage from the incident is under review.