One thing you shouldn't take for granted is the version of the browser you're using to surf the web. Always be sure to keep your web browser up to date. 
CLICK TO GET KURT'S CYBERGUY NEWSLETTER WITH QUICK TIPS, TECH REVIEWS, SECURITY ALERTS AND EASY HOW-TO'S TO MAKE YOU SMARTER
This will fix the many security issues that seem to come with each version and ultimately help prevent hackers from getting into your computer, crashing programs and getting around your computer's security systems.
While there are many browsers out there, below are a few of the more popular ones.
5 phone apps that offer free long-distance calls anywhere, anytime
How to update your Chrome browser
Mac
Select the 3 vertical dots in the top right corner
Click Settings
Select About Chrome from the Chrome menu on the left
Allow it to scan for a most recent update
Click Relaunch to complete the update.
Windows
Open your Google Chrome browser
Select the 3 vertical dots in the top right corner
Click Help, then About Google Chrome
Select Update Google ChromeNote: If you do not see the "Update Google Chrome" button, then your browser is already updated
Click Relaunch to complete.
Android
From your phone or tablet, open the Google Play Store app
Tap the profile icon from the top right
Select Manage apps & device
Find Chrome located under "Updates available"
Tap Update.
iPhone & iPad
Launch Apple App Store
Tap Profile from the top right (it looks like you or a shape of a person)
If you have any apps that need updating, they will be listed under "Available Updates." If you see Chrome on the list, tap Update
Enter your passcode or Apple ID password if prompted
Chrome will automatically update when finished downloading.
APPLE COULD OWE YOU UP TO $395 FOR MACBOOK KEYBOARD WOES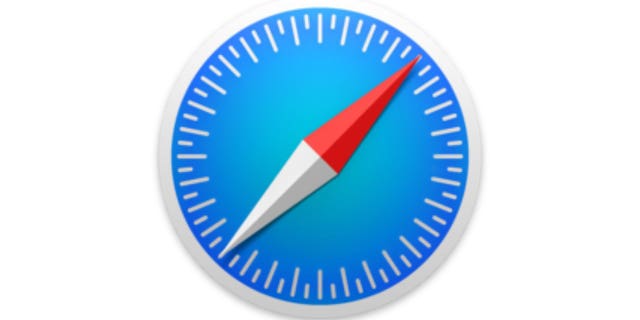 How to update your Safari browser on a Mac
Safari is a built-in App on all Apple products and will automatically update alongside your device's software. To check if your Mac computer needs an update:
Click the Apple icon in the top left corner of your screen
Go to System Settings
Click General from the menu on the left
Select Software Update
Updates will be listed if there are any available. Click Restart Now to begin updating
Once the update is complete, Safari will automatically be updated.
THE MOST IMPORTANT SOS TOOL EVER MADE
How to update your Microsoft Edge browser
On Windows 
Microsoft Edge is programmed to update automatically every time you restart your browser. You can, however, update Microsoft Edge manually:
Open the Microsoft Edge browser
Click Settings and More
Click Help and Feedback
Click About Microsoft Edge.
Here, it will tell you whether Microsoft Edge is up-to-date or if an update is available. If an update is available:
Click Download and Install
Click Restart.
On a Mac
At Menu at top, click Microsoft Edge
Then click About Microsoft Edge 
Any available updates will be displayed.
MY VPN KEEPS ME PRIVATE AND SECURE, SHOULD I EVER TURN IT OFF?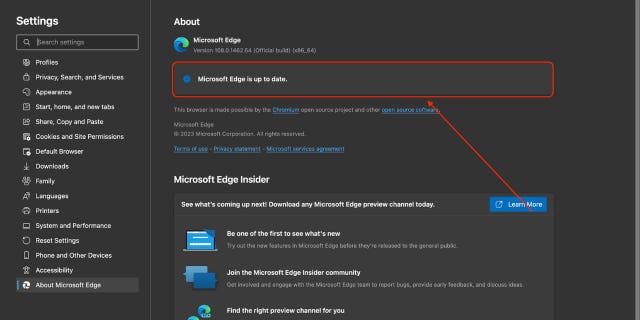 Microsoft Edge is also available to download on iPhones, iPads and Androids. To make sure it is up-to-date, follow the same steps above to update Microsoft Edge as you would to update Chrome on those devices.
Be sure you've installed reliable antivirus software
While most devices come with free antivirus software installed, none of them are as effective at protecting your devices or preventing them from being infected with malware as they could be. It is important to make sure you have a reliable antivirus program installed and running on your devices. 
See my expert review of the best antivirus protection for your Windows, Mac, Android & iOS devices by searching 'Best Antivirus' at CyberGuy.com by clicking the magnifying glass icon at the top of my website.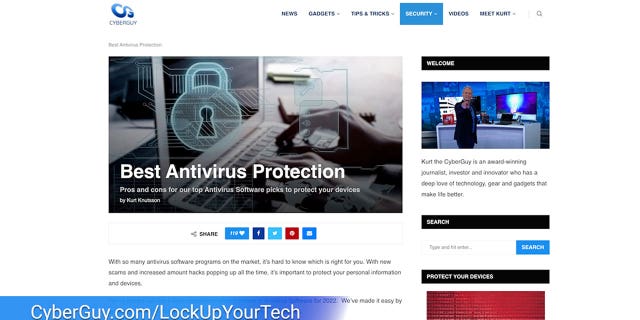 Have you updated your browsers yet? Let us know if you noticed increased speed and performance. 
CLICK HERE TO GET THE FOX NEWS APP
 For more of my tips, subscribe to my free CyberGuy Report Newsletter by clicking the "Free newsletter" link at the top of my website.
Copyright 2023 CyberGuy.com. All rights reserved. CyberGuy.com articles and content may contain affiliate links that earn a commission when purchases are made.